Nowadays most users want to transfer their PST file to cPanel mailbox. If you are among those who want to import PST to cPanel mailing account, then this article is for you. Read the complete blog and know the secure way to move PST emails to cPanel without any data loss.
Although Outlook uses PST file to save its mailbox data that is secured by a password still most users prefer a webmail account to save their critical data. Thus, most users want to import PST file to cPanel webmail account.
Now the question is – how to transfer Outlook PST to cPanel mailbox without any data loss. To know the answer to this question read the complete article.
Before we move ahead and talk about the process of PST to cPanel import process, note that there is no direct manual way to import PST to cPanel webmail account. Thus we need to use a third-party solution capable enough to perform the importing process efficiently.
How to Import PST File to cPanel Webmail Account
Use the Xtraxtor PST Converter tool to transfer emails from PST file to cPanel account. This tool will directly import PTS to cPanel mailbox in a few simple steps. along with that, you can also use the filter options of the utility and import selective emails. Apart from that, this utility maintains the email folder and sub-folder structure and hierarchy during the import process.
Additionally, you can also use this utility and import PST to iCloud, Gmail, Yandex Mail, Yahoo, Zoho Mail and many other webmail accounts. With its easy-to-use interface, any novice user operate the tool and move PST emails to cPanel mail account.

Procedure to Import PST to cPanel Webmail Account
To transfer PST file emails to cPanel mailbox using the automated tool, follow the given instructions –
Step 1. Install and launch the Xtraxtor PST Converter on your Windows OS.
Step 2. After that select, Open >> Email Data File >> PST File >> Select File from Folder.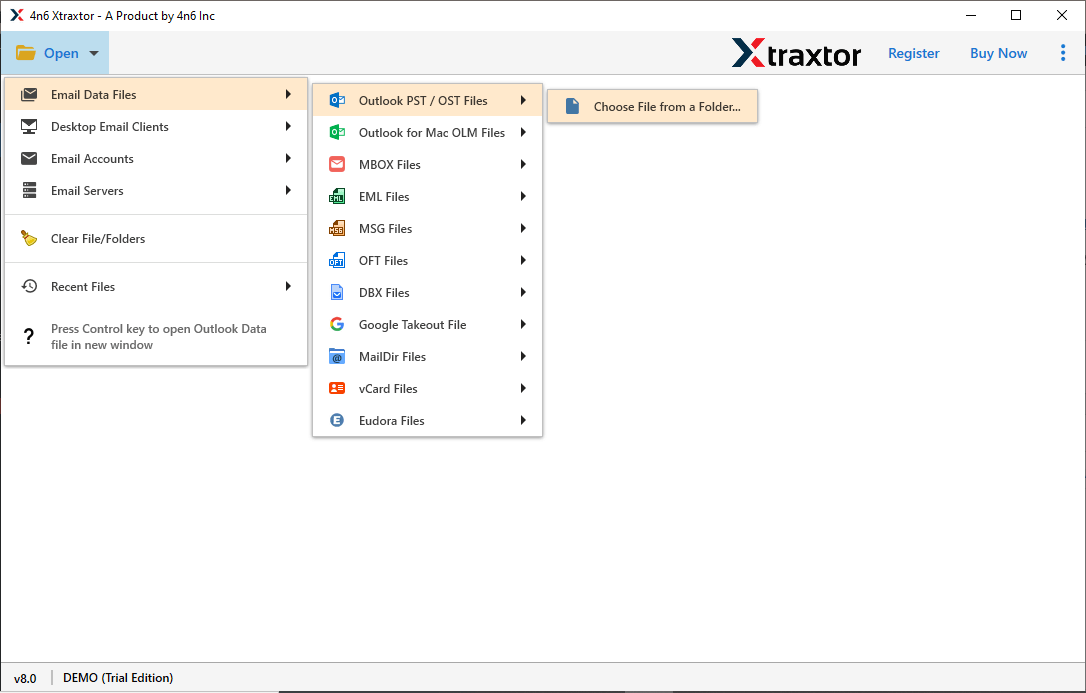 Step 3. Here you can view PST file data and read them.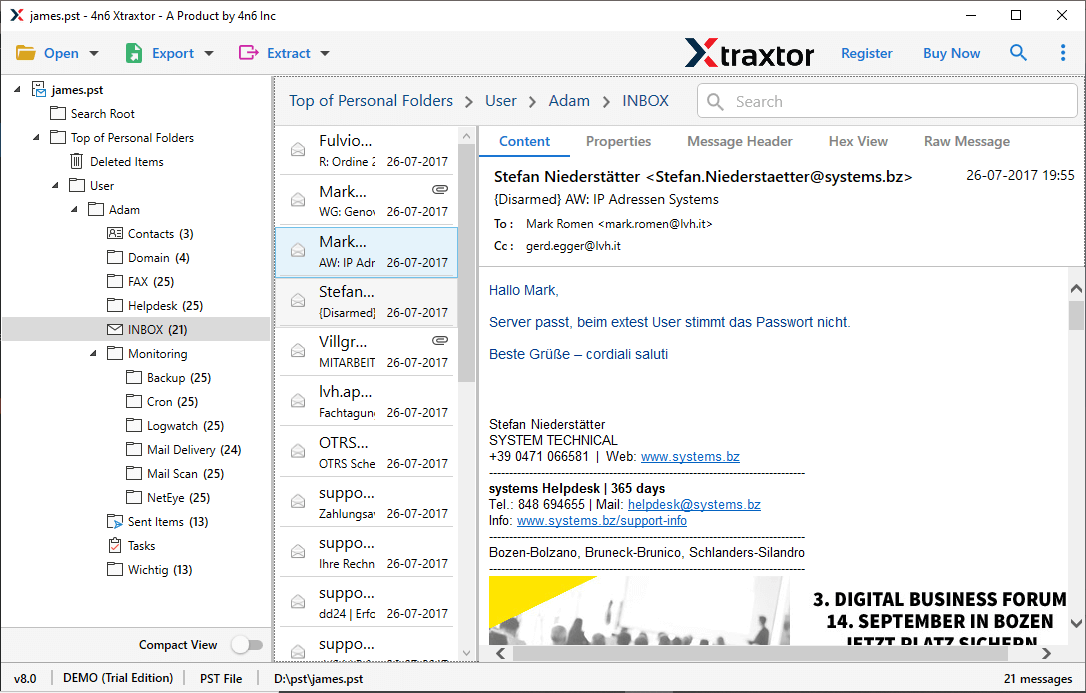 Step 4. Click on Export and choose IMAP from the given list.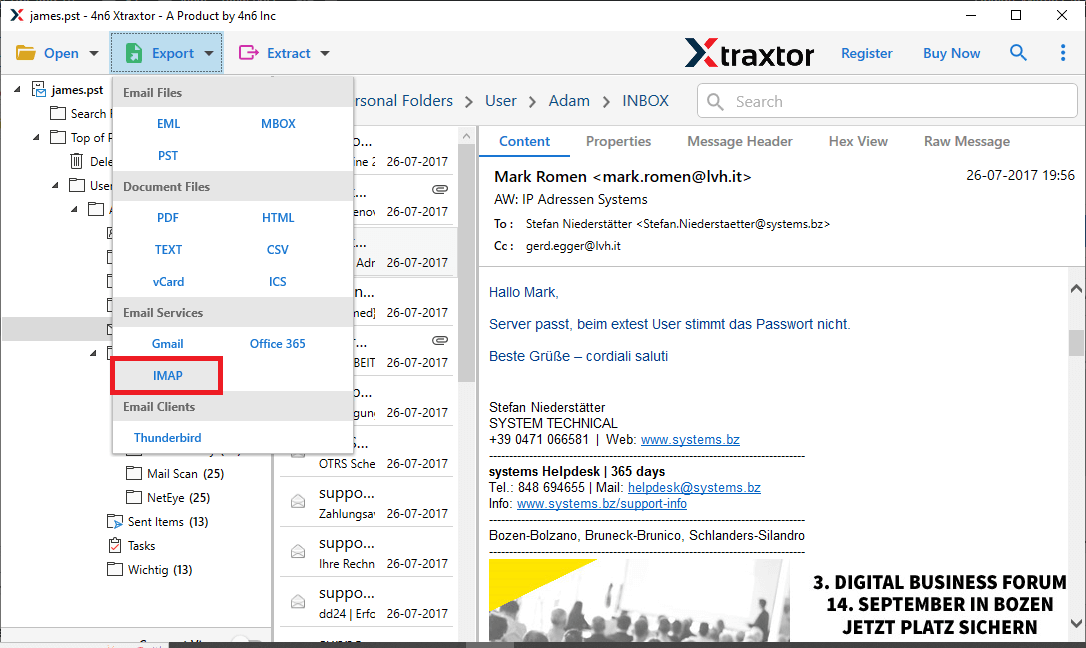 Step 5. Now, if you want to import a few selective email folders, then here in this step you can select the folders.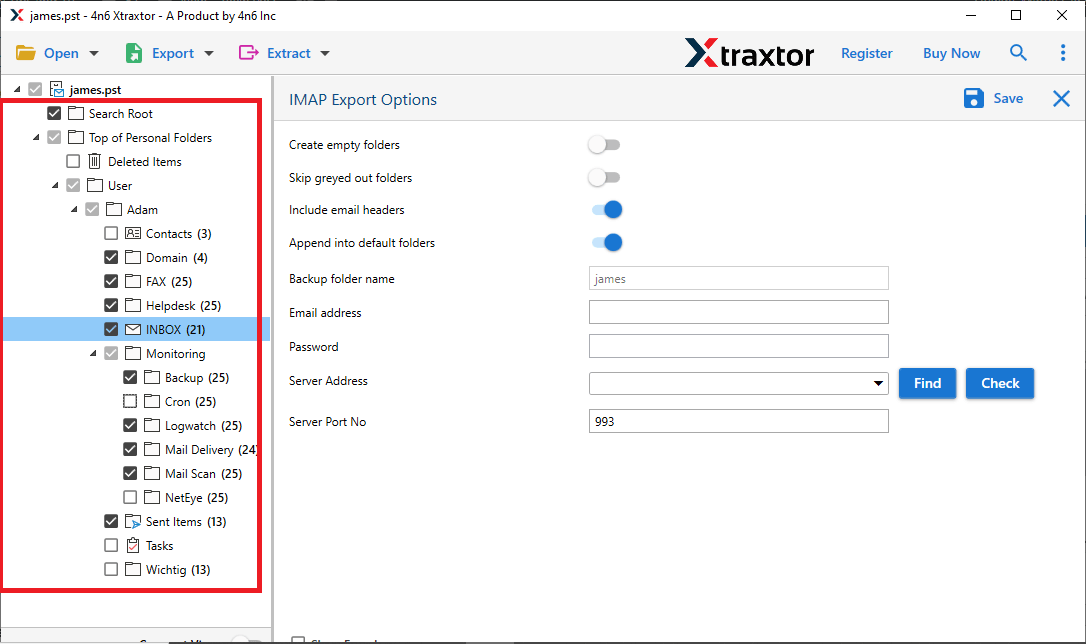 Step 6. After that enter your cPanel webmail account details and at last hit on the Save button.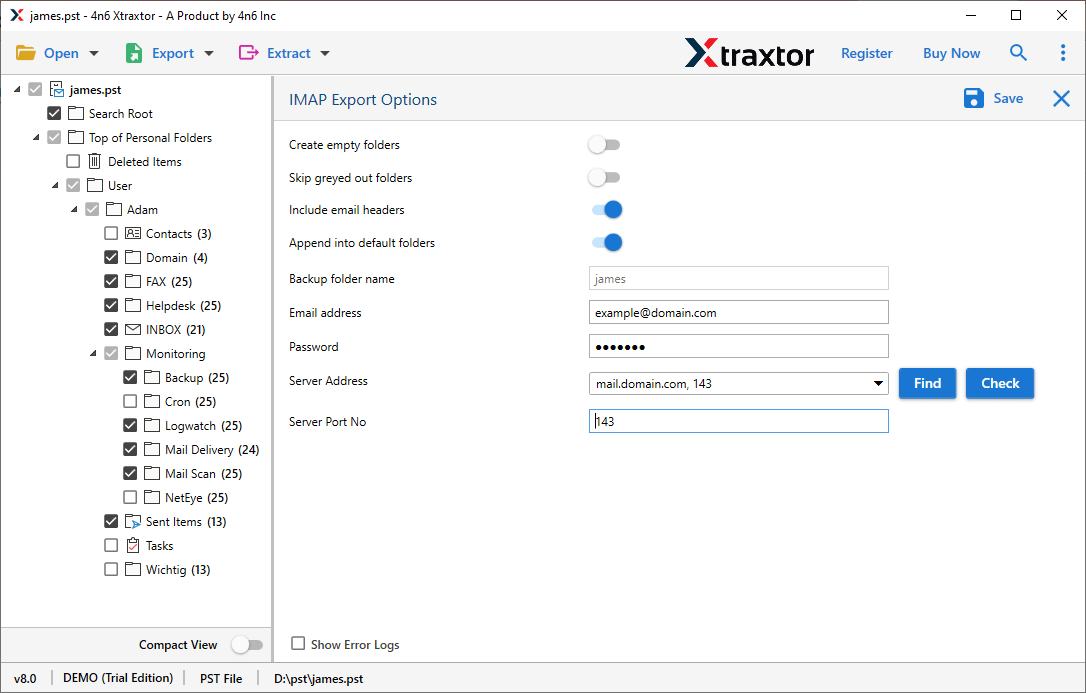 Done! Here you import PST to cPanel webmail account in a few simple steps with complete mailbox data.
Benefits Of Using PST to cPanel Import Tool
This automated tool has many advanced features that make the import process efficient and accurate. Sone of them mention here –
Preserve Data Integrity: While importing data from PTS file to webmail account, this tool upholds the integrity of file data. There will be no alteration or modification in the content of the email data.
Email Filter Option: If your PST file has a massive amount of data but you need to import only a few emails only, then you can use the filter options. This utility offers various filter options such as – to, from, cc, bcc, subject, date range, time, name, content, has attachments, property id & name, etc.
Transfer PST file to Webmail Accounts: Along with PTS to cPanel imports, this tool also performs other transferring processes. One can use this tool and import PST to Exchange, iCloud, Gmail, Yahoo, Office 365 and other webmail accounts.
Extract Other Data: This software also offers some extracting options. Using that, you can extract email addresses, phone numbers, attachments, attachments, contacts photos and associated email addresses and phone numbers. Al these extracted data will be stored in a single text file.
Save PST Emails in Different File Formats: The software not only import PST to cPanel mailbox, but it also performs email conversion. You can use this tool and convert PST to MBOX, CSV, PDF, EML, ICS, vCard and HTML.
Windows Utility: The Xtarxtor PST to cPanel import tool is a Windows-based utility that can be run on all Windows OS versions. One can install this tool on Windows 11, 10, 8, Vista, XP, and all other previous versions.

Conclusion
In this blog, we discuss a query – how to import PST to cPanel webmail account? To solve it we mention an instant and secure way to transfer emails from PST file to cPanel mailbox without any data loss. You can use the demo version of this utility and try to move PST file to webmail account with ease.