Looking for a solution to move PST to Office 365 mailbox? If yes, then this article will guide you to add .pst file to Office 365 account. Read the complete article and import PST to Office 365 webmail account without any hassle.
Nowadays, the cloud became the best platform for keeping your important data secure. Moving your important emails to a webmail account is a common practice, one such is PST to Office 365 migration.
Office 365 is a cloud-based platform mainly for business enterprises. It contains all the office components including skype, Exchange Online, and SharePoint Online. It offers various outstanding benefits, such as – remote access, easy to setup and manage, data loss prevention, always update with the new version, etc.
Now the question is – how to import PST to Office 365 mailbox? To know the instant and secure way to move PST  to Office 365 account, read the coming section of this blog post.
How to Import PST Emails to Office 365 Mailbox
To upload PST to Ofice 365 without Outlook, use Xtraxtor PST Converter software. This utility will directly import PST to Outlook 365 webmail account. Most important there will be no data loss during the import process. Along with that, if you want to transfer emails from .pst file from a particular date, then this tool offers a date range filter to import PST to Office 365 account.
Additionally, you can also import PST to Hotmail, Gmail, Yahoo, Yahoo, and many other webmail accounts in a single interface. Apart from these, this utility will also offer different file options to save .pst file data. You can use this tool and convert PST to MBOX, PDF, CSV, vCard, ICS, and other file formats.

Procedure to Import PST to Office 365 Without Outlook
Follow the given instructions to move PST file to Office 365 mailbox –
Step 1. Install and Run Xtraxtor PST Converter on your system.
Step 2. Select Open >> Email Data File >> PST File >> Select File from Folder.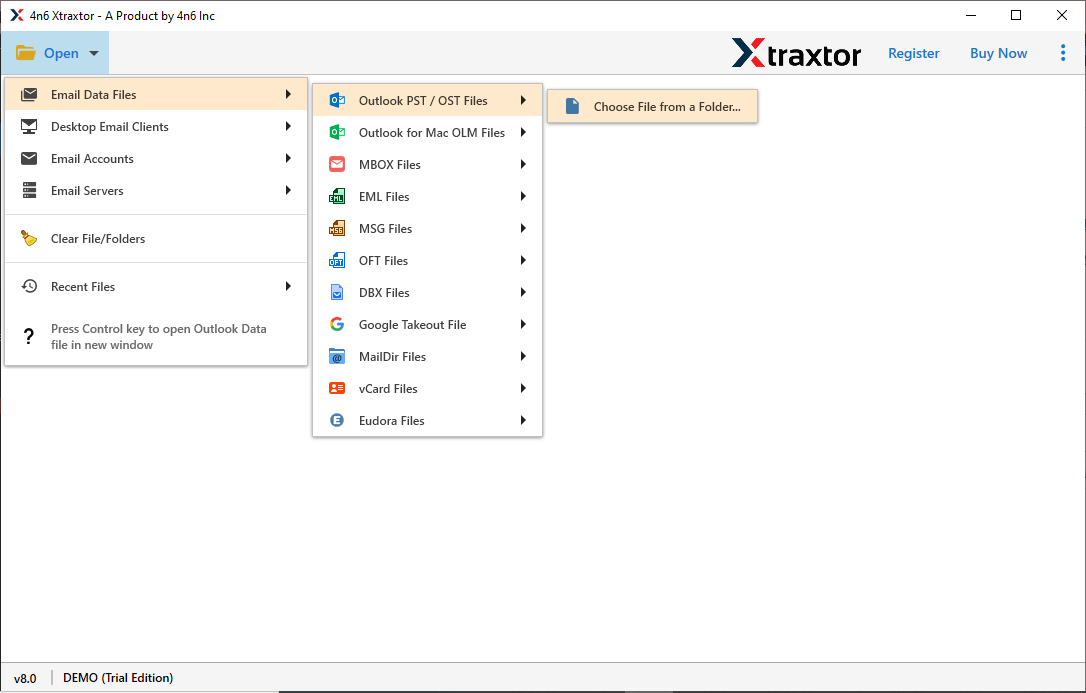 Step 3. Here you can view PST file data, and analyse it.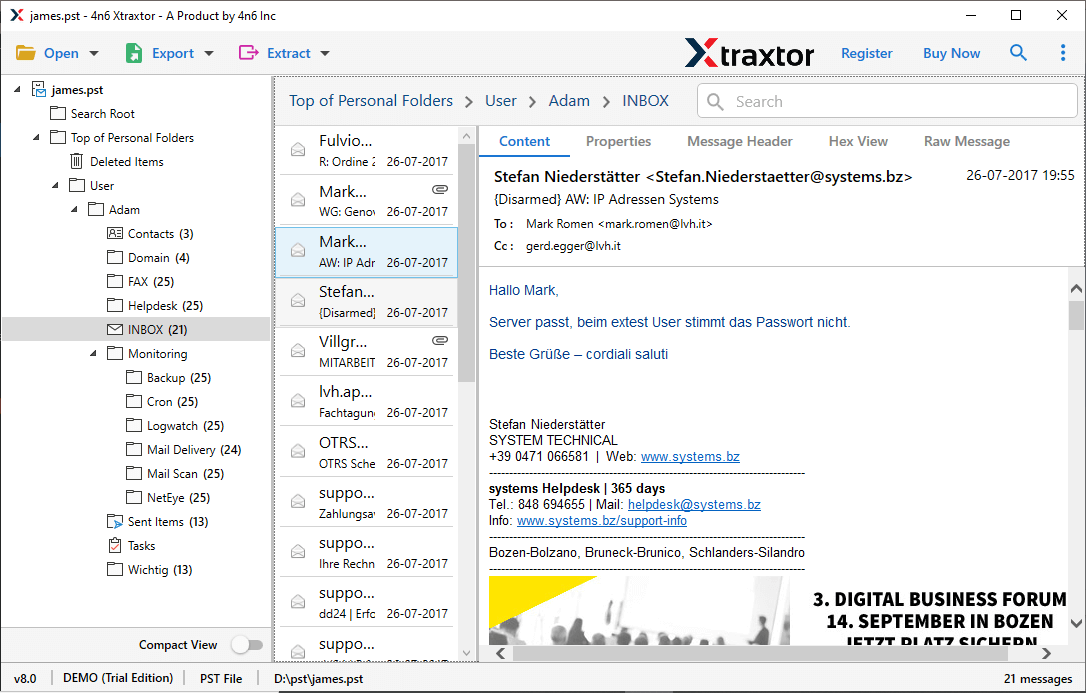 Step 4. Click on Export and choose Office 365 option.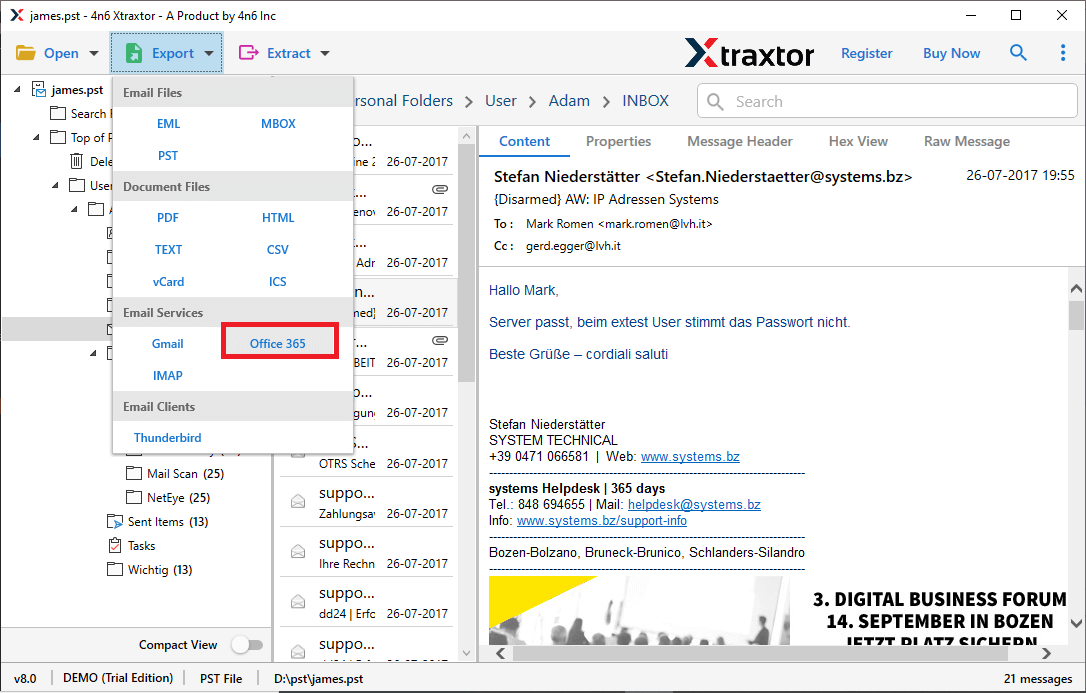 Step 5. If you want to move a few email folders to your webmail account, then you can select the folder here.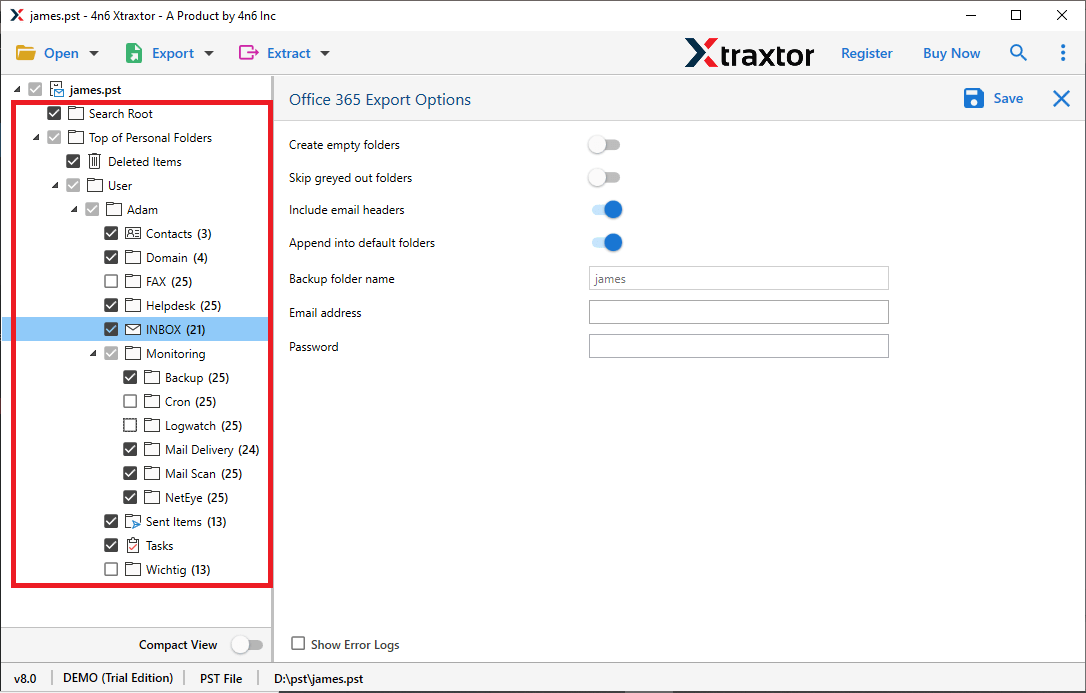 Step 6. At last, enter your Office 365 login details and hit on the Save button.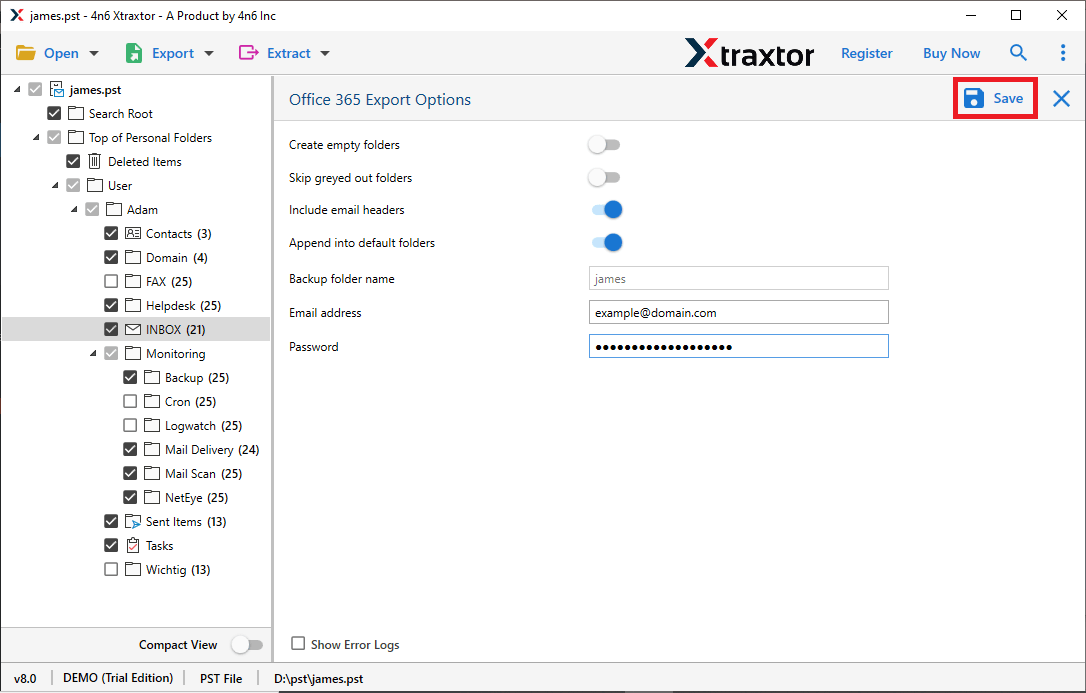 Done! Here you import PST to Outlook 365 webmail account in a few simple steps. If you want to try the importing process, then use the demo version of this tool.
Why Use Xtarxtor PST to Office 365 Migration Tool
With this software, there are various outstanding features that help you to import PST to Office 365 mailbox. Some of them mention here –
Maintain Mailbox Hierarchy: While transferring emails from PST file to Office 365 account, this utility preserves the email folder and sub-folder hierarchy and structure. There will be no alteration in email formatting and data.
Upload PST to Cloud Servers: With this automated tool you can transfer PST file to various webmail accounts. It will import PST to Gmail, Yahoo, Google Workspace, Yandex, Zoho Mail, etc.
Email Filter Option: There are various filet options provided by this tool to find and import selective emails only. The various email filters you can apply – to, from, cc, bcc, subject, name, content,  date range, time, has attachments, and many more to choose from.
Different File Saving options: Along with importing emails to the cloud servers, this tool also saves them into different file formats. You can convert PST to CSV, MBOX, CSV, PDF, HTML, ICS, vCard, etc.
Windows Based Utility: This software can be installed and run on all Windows-based OS systems. You can operate this tool on Windows 11, 10, 7, Vista, XP, and all other previous versions without any technical error.
Direct Email Migration: This Xtraxtor software will directly import emails from PST file to Office 365 mailbox in a few simple clicks. You need to enter your Office 365 email id and password, the rest of the migration process will be done automatically.

Conclusion
Office 365 is the best platform to save your important emails. That's why many users want to import PST to Office 365 webmail account. In this blog, we mention an instant solution that will swiftly upload PST to Office 365 without Outlook installation on your system. Try this simple solution and move PST file to your Office 365 webmail account without any data loss.