If you are looking for a solution to import OLM to Gmail? Then look no further as in this blog, we will go through the step by step method to Upload OLM to Gmail account. Here you will get the detailed solution to perform migration from desktop-based email client to web-based email service.
Microsoft Outlook works for both Windows and Mac operating systems. On Windows, the Outlook data saved in the PST file format and on Mac OS Outlook for Mac data are saved in OLM format. This is the little difference to Outlook for Mac and Outlook for Windows. Like PST, the OLM file contains emails, contacts, calendars, and other items.
As a Mac operating system, it is too expensive than other operating systems and also very complicated to use. Therefore, most Mac users want to switch from Mac OS to Windows OS. In Windows, users need an email service that is inexpensive and stores data securely. To meet this need, users prefer to use Gmail, where all data is stored entirely in the cloud and is easily accessible anytime, anywhere.
Solution to Import OLM to Gmail Manually
In order to import OLM to Gmail account via manually, you need to configure Gmail to Mac Outlook. For this you need to perform three steps:
1. Enable IMAP in Gmail
Sign in to your Gmail account.
Click on Setting icon and select Setting.
Select Forwarding and POP/IMAP tab.
Enable IMAP Access and click on the Save Changes button.
Create a label to save the Mac OLM data separately.
2. Configuring Gmail Account in Mac Outlook
Open Mac Outlook. Go to the File menu and select Accounts.
Click on Emails option.
Enter your Gmail account credentials.
Click on Add Account button. Now, Gmail account is configured with Outlook for Mac.
3. Import OLM File to Gmail Account
Open Outlook for Mac on your machine and select the folder from which you want to move OLM emails.
Right-click on that folder and select Move then select Copy to folder option.
A dialog box will pop up, here select the newly created label name and click on Copy.
Click the Send/Receive button to move OLM emails to Gmail account.
Limitations of Manual Approach
With the manual method above, you can only move email from OLM to Gmail account. If you tried to move OLM contacts, this method failed. Nevertheless, there is another limitation such as:
Very lengthy and time-taking process
Risk of data loss while performing export process
Requires strong technical knowledge to accomplish this task
Better and Quick Solution to Upload Mac OLM file to Gmail Directly
If you are not satisfied with the manual solution and want a quick approach, then you must try the Xtraxtor OLM Converter tool. This utility makes it easy for users to directly import OLM to Gmail account within a few moments. It allows you to import complete data associated in OLM file to Google Gmail account. The software lets you import multiple OLM files into Gmail account at the same time without losing individual data.
Additionally, you can use the software you can import OLM to Yhaoo, Gmail, Office 365 and all other webmail accounts. With this tool, there are various advanced email filter options – to, from, cc, bcc, date, time, name, subject, and many others to choose from. 

Steps to import OLM to Gmail directly are;
Step 1. Install and run Xtraxtor in your system.
Step 2. Click Open >>Email Data File >> OLM File >> Choose from a folder.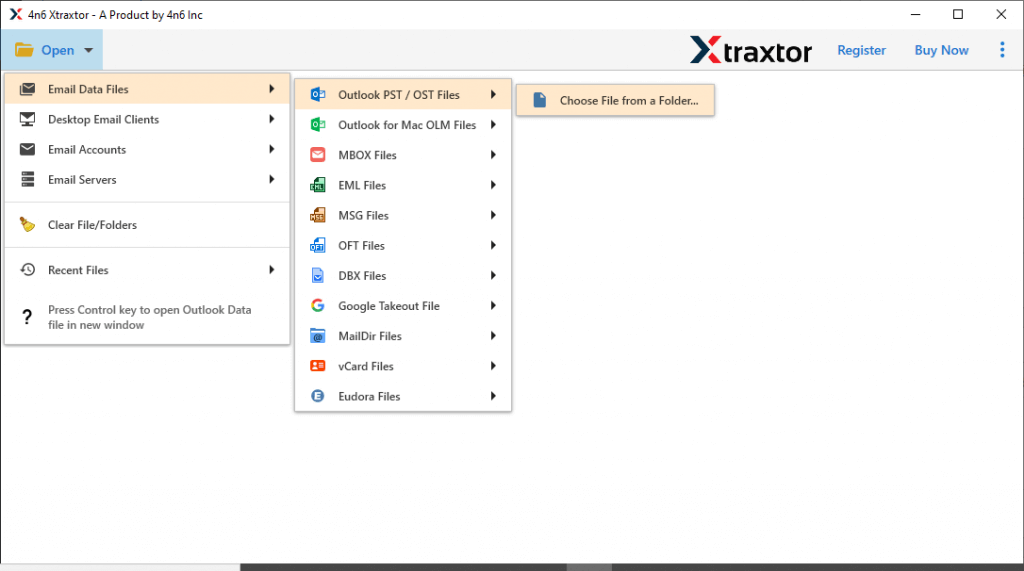 Step 3. Browse and add a folder having an OLM file.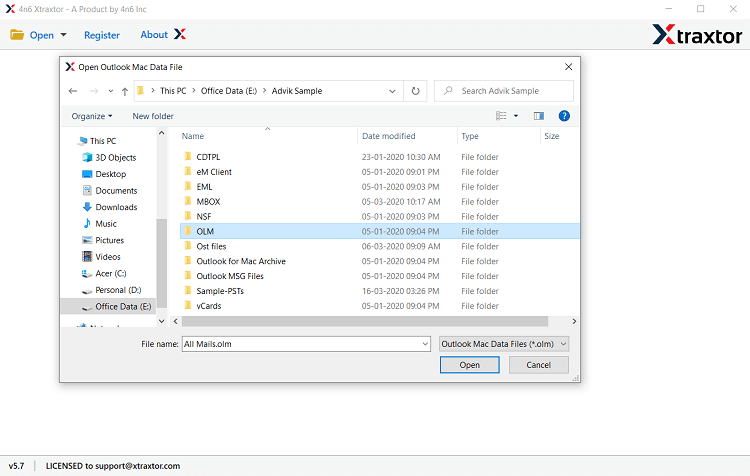 Step 4. Click Export and choose Gmail as a saving option.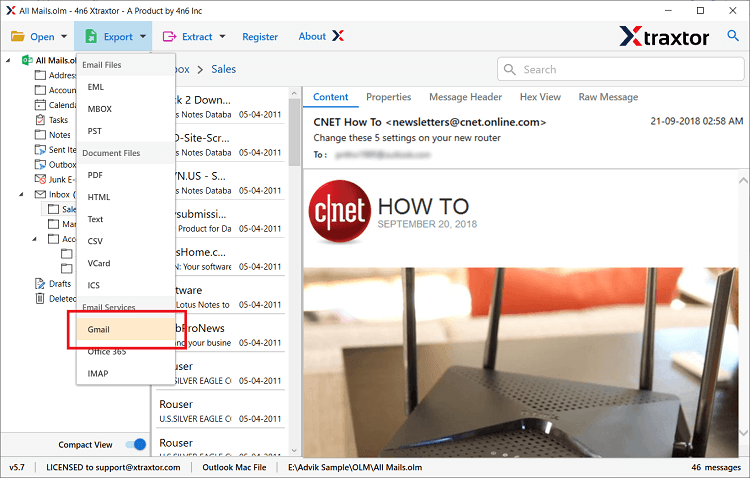 Step 5. Select mailbox folders for migration.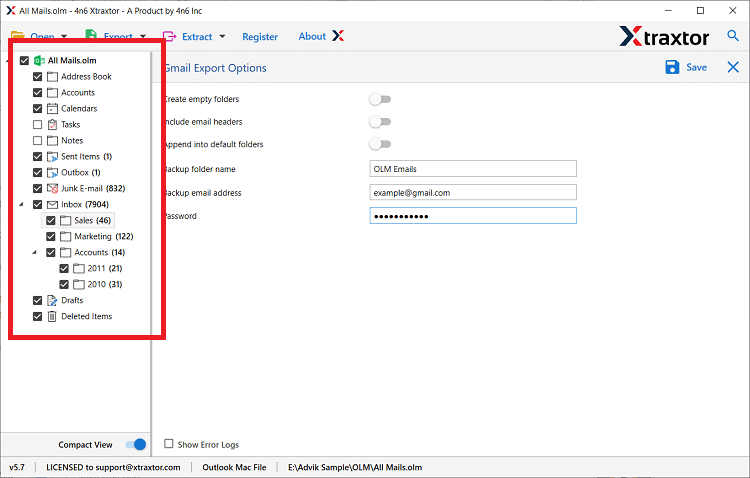 Step 6. Enter your Gmail credentials and click Save.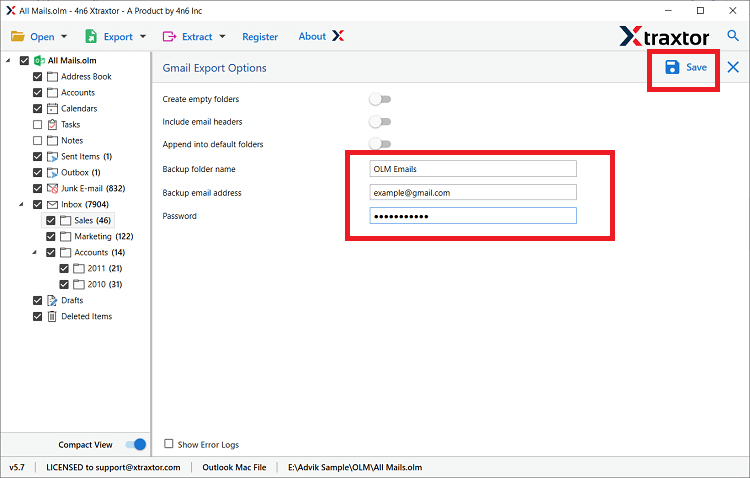 Done! This is the quick and direct solution to upload OLM file to Gmail account. Now, Log in your Gmail account and check the imported OLM files.
What's More in OLM Conversion Tool?
The software is easy to use and comes with numerous beneficial features to make the import process easier. Some of the features are listed below:
100% virus-free, fast, and reliable utility to upload OLM to Gmail account
Provides a quick preview of OLM files along with all attachments
Bulk upload OLM files directly to the Google Gmail account in a single click
Offers separate option to export OLM contacts to vCard and CSV file format
Facility to import OLM calendars to Gmail along with all saved details
Successfully Compatible with Windows 10, 8.1, 8, 7, and other below versions
Free Demo version available for users to better understand the working
Maintains on-disk folder hierarchy during Outlook for mac to Gmail import process

Final Words
Migrating Outlook for Mac to a web-based Gmail email service is not a difficult task if you know the right solution. In this write-up, we explained the solution on how users can import OLM to Gmail manually. The manual solution explained is quite difficult for non-technical users and takes a long time. To simplify this, we recommend an alternative and direct way to upload OLM file to Gmail account using the OLM converter wizard.