"I have several MSG files, and I have decided to import all these files to Yahoo Mail because of some Office need. However, I searched a lot for the tested solutions but failed to find the precise approach. Please advise me on an appropriate way to export MSG to Yahoo Mail?"
Are you looking for a solution to import MSG to Yahoo Mail? If yes, then your search completes here. After reading this blog, users will find a suitable solution. We have received numerous queries where users want to upload MSG to Yahoo Mail account. So, we give you a step-wise solution to export MSG to Yahoo Mail by following the below-mentioned write-up.
In today's era, there are various variations for a user to select several mailing portals. Yahoo is one of the most interesting mail platforms that is widely used for simple mail exchange. It delivers the best-enhanced services add it is because of this cause that users like to use yahoo so much. The mailing services of yahoo had attracted billion of users Widely.
If you are an MS Outlook user and willing to export its messages to yahoo in one go then this blog will definitely assist you with the same. So let us discuss the process to import MSG to Yahoo mail.
MSG File Type
A single file with the .msg file extension is most likely an Outlook Mail Message file. The MS Outlook application can form an MSG file that refers to an email, appointment, contact or task.
If an email, the MSG file might carry message details such as date, subject, recipient, sender, and message body (considering custom formatting and hyperlinks), but it might alternatively just be contact information, appointment details or a task description.
Import MSG Files to Yahoo Using

Xtraxtor
Xtraxtor MSG to Yahoo Mail wizard is an instant solution to export MSG files to Yahoo Mail efficiently. This Email Extractor has an easy to use interface that can be easily operated by both technical and non-technical both users can use this utility without any guidance. This tool utility has the ability to import MSG to Yahoo Mail account in a few clicks without any trouble. This tool has a number of functionalities which make it a safe and reliable solution. In just a few steps, you can export MSG to Yahoo Mail rapidly. It provides you totally safe and accurate outcomes. There is no risk of data loss using this tool.
Along with that, this software also import MSG to Gmail, Hotmail, Office 365 and other webmail accounts with ease. Furthermore, you can also apply the email filters and search and export them into Yahoo Mailbox account with ease. 

Steps to Import MSG to Yahoo Mail Account are;
1: Download and launch Xtraxtor MSG Converter on Windows OS.
2: Click on "Open" and select "MSG files" and then "select file or folder".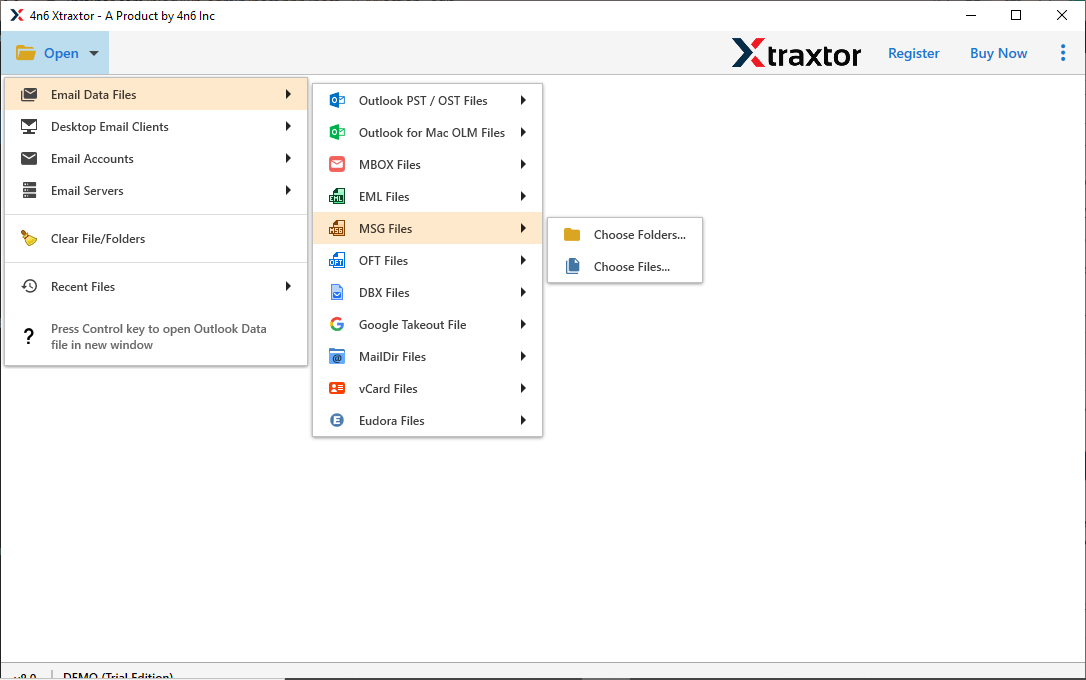 3: Browse and add the MSG file in the tool panel.
4: Hit on Export and choose IMAP as a saving option.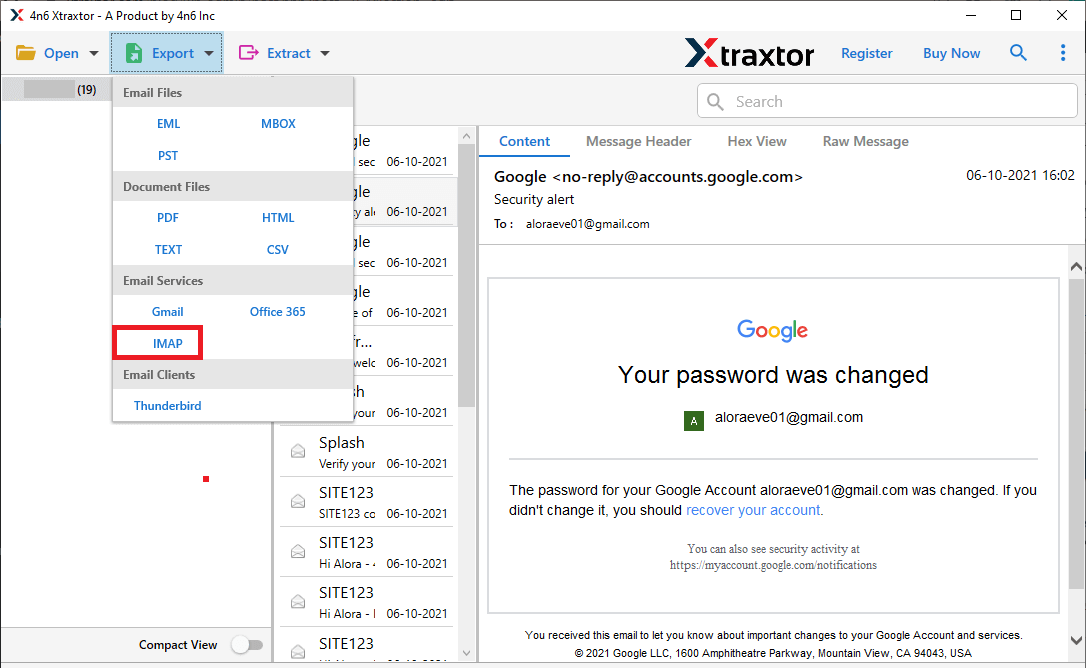 5: Finally, Enter Yahoo Mail login credentials and hit the Save button.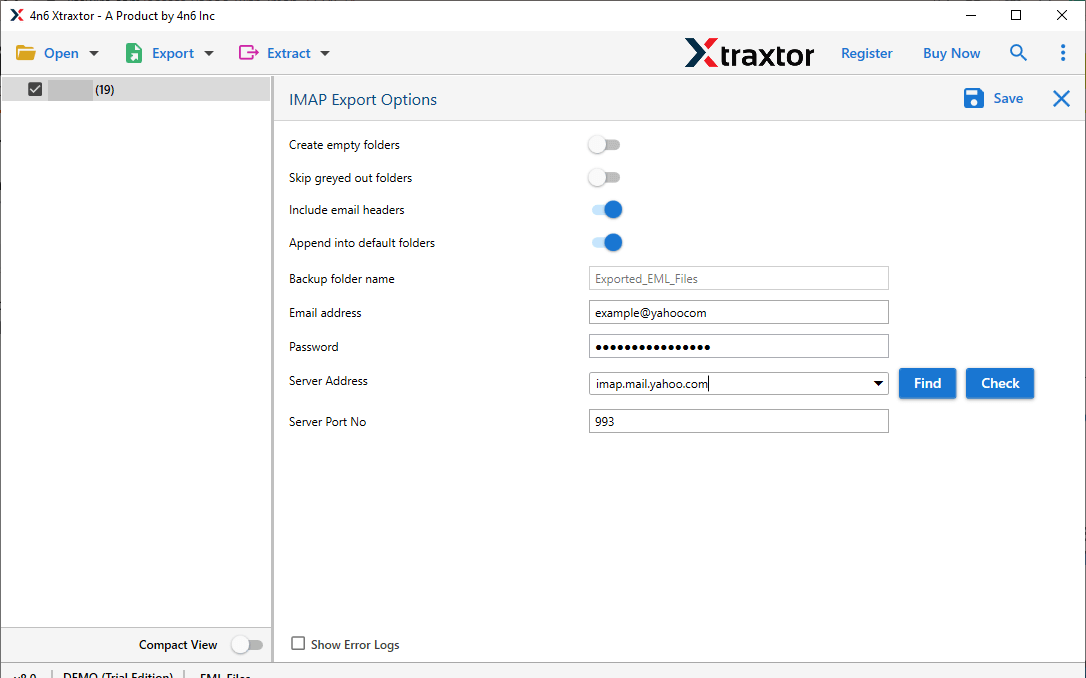 Features of Xtraxtor MSG to Yahoo Mail Wizard
It's quite easy to import MSG to Yahoo Mail with attachments. The best thing about this utility users don't need any supportive applications. The tool permits users to export multiple MSG files to Yahoo Mail account without any hassle.
The tool permits you to upload MSG to Yahoo Mail with attachments.
It supports to extract Phone numbers, Email addresses, and Attachments in collection rapidly.
View files in four formats such as content, the message header, and raw message.
The tool provides an advanced search option to find your data files by entering a name,  from/to, subject, select date, to,  time from, file name, File size unit,  file size, etc.
The software supports all the editions of Windows OS including the latest version.
It allows to upload MSG to Yahoo Mail account in bulk without losing any data.
Final Verdict
In this post, we have discussed an outstanding solution to import MSG to Yahoo Mail account. Xtraxtor MSG to Yahoo Mail wizard is the best choice for anyone who wants to export MSG files to Yahoo Mail. This application has been tested by users, organizations, and professionals and they have all rated it 4/5.