Summary: Today we are going to learn a quick way to export Gmail emails to PST from his blog. Hence, read this article to the end and transfer your Gmail emails to PST format quickly and without data loss.
As we already know, Gmail is used by many people because it is free, available anytime, and has enough storage space. However, if there is a cyber attack on your Gmail account or it crashes or you accidentally delete some emails, what will happen then?
Losing important information is costly, so it is better to export Gmail emails to PST format so that they can be saved on any storage device or retrieved in Outlook.
Method to Transfer emails from Gmail to PST Format
Here we will discuss two effective methods to save Gmail emails to Outlook data file (.pst). Let's check what they are and how they transfer Gmail emails.
#1. Manually Transfer Gmail emails using Outlook
#2. Transfer Gmail emails using Automated Tool 
Method 1: Export Gmail Emails to PST Format Via MS Outlook
To manually perform this operation, users need to install an Outlook email client on their system. After installing it you need to configure your Gmail account to Outlook. After configuration, follow the below steps and transfer your Gmail emails to the Outlook interface and then export them to PST format. Hence without further delay let's proceed.
1. Run MS Outlook on your system.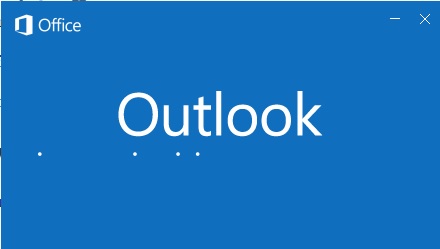 2. Enter your Gmail email address and click on enter to configure it with this desktop email client.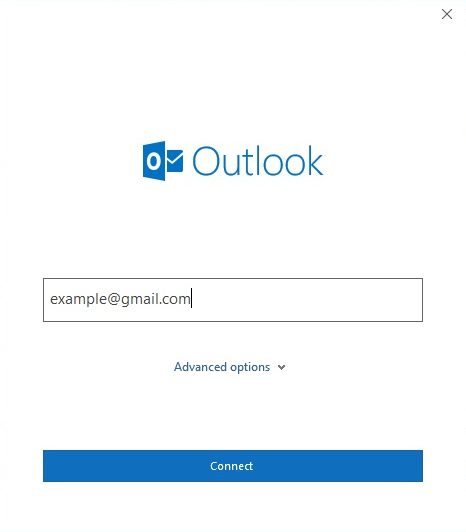 3. After that, the Outlook interface will open. Then click on File >> Open & Export >> Import/Export.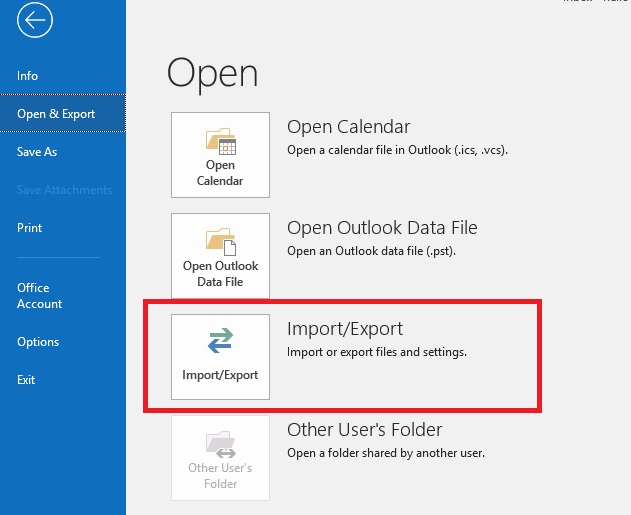 4. Choose an action to perform, Export to a File and click on the Next button.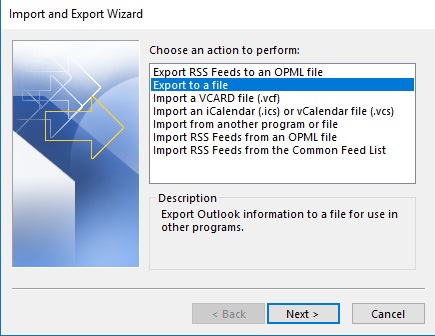 5. Create a file type as Outlook Data File (.pst).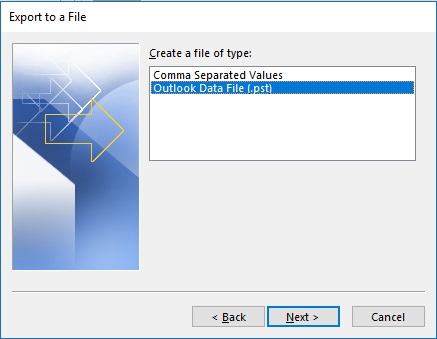 6. Select the folder that you want to export.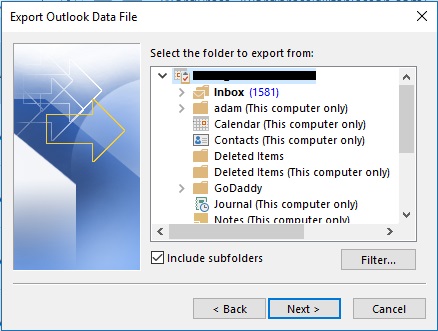 7. Browse the location to save the exported file and choose the required option from the given list. Click on the Finish button.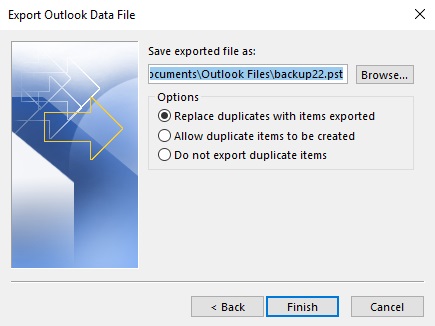 Here complete the process and all mailbox data will be saved at your selected location. However, this has some limitations such as;
1. There is no email filter option to export selected emails.
2. It may take lots of time if your mailbox has numerous emails.
3. While performing the transfer process, you might lose your important data.
4. You require technical knowledge while configuring your Gmail account to Outlook.
You may face these problems while using this manual method to perform the Gmail email to PST export process. However, there is an alternative solution to perform this task. To know about it read the next segment of this blog.
Method 2:  How to export Gmail emails to PST in Bulk
Unfortunately, Gmail doesn't have the option to transfer its emails to PST file. To do that you need an automated tool that can perform this export process with 100% efficiency and accuracy. 
Xtraxtor Gmail Backup Tool is one such tool that can export Gmail emails to PST in batch without facing any glitches. It has an easy-to-use interface that empowers novice users to transfer their Gamil mailbox data with all the key elements intact.
Follow the below-given steps but before that install this software on your Windows OS.
Step 1. Run this software on your Windows OS system.
Step 2. Click on Open >> Email Account >> Add Account.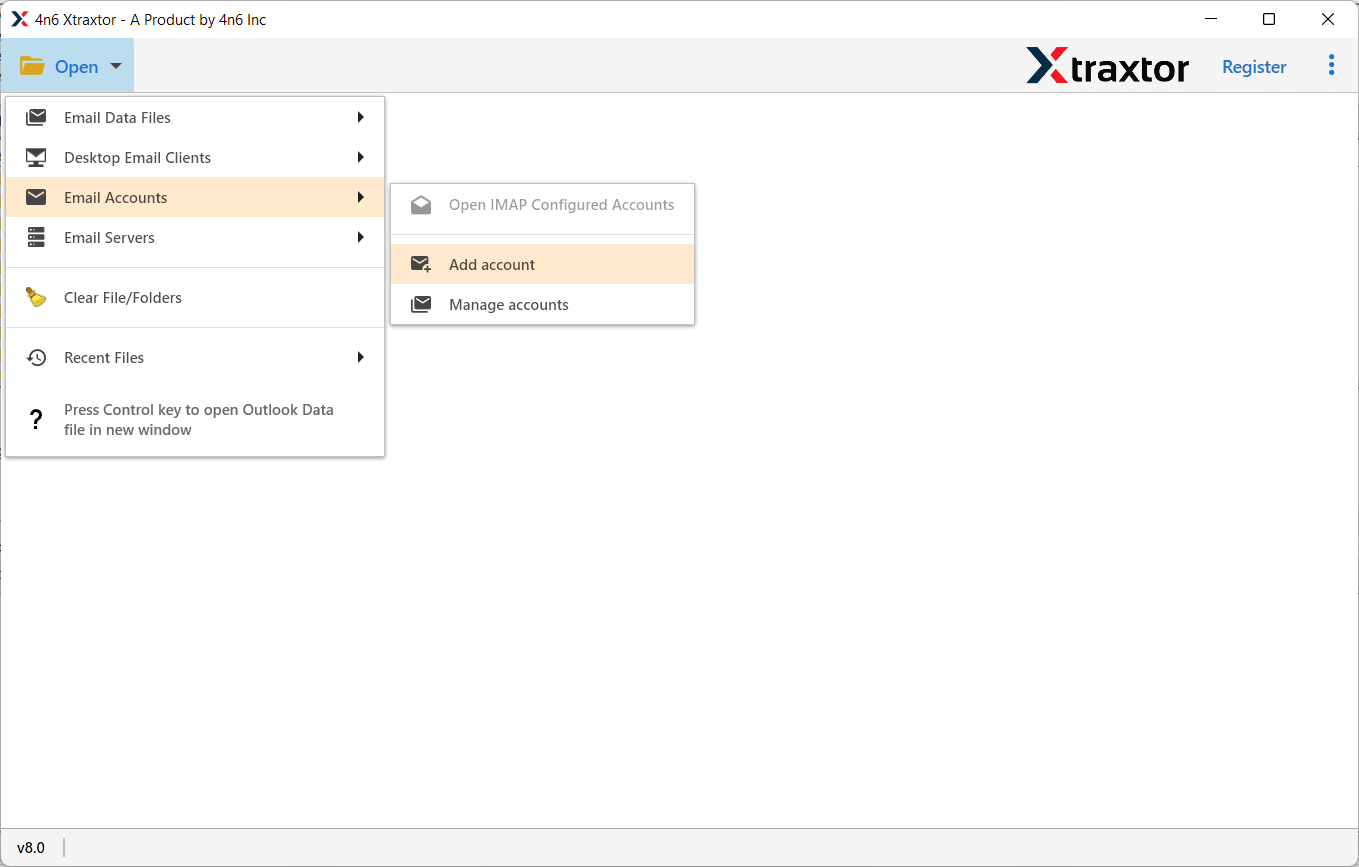 Step 3. Enter your Gmail login details and under the Additional setting put IMAP Port Number and click on Add button.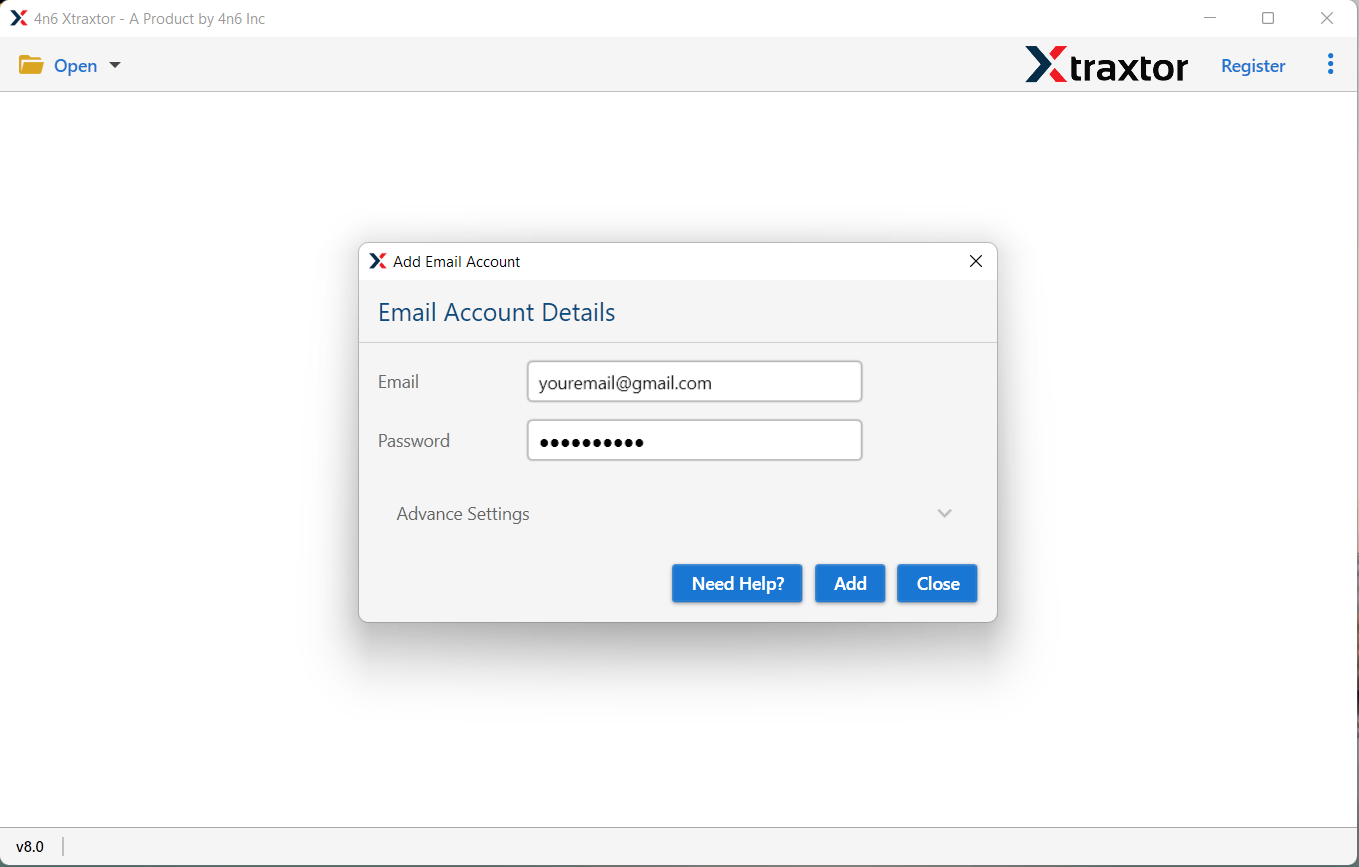 Step 4. After that click on the Export button and select PST format.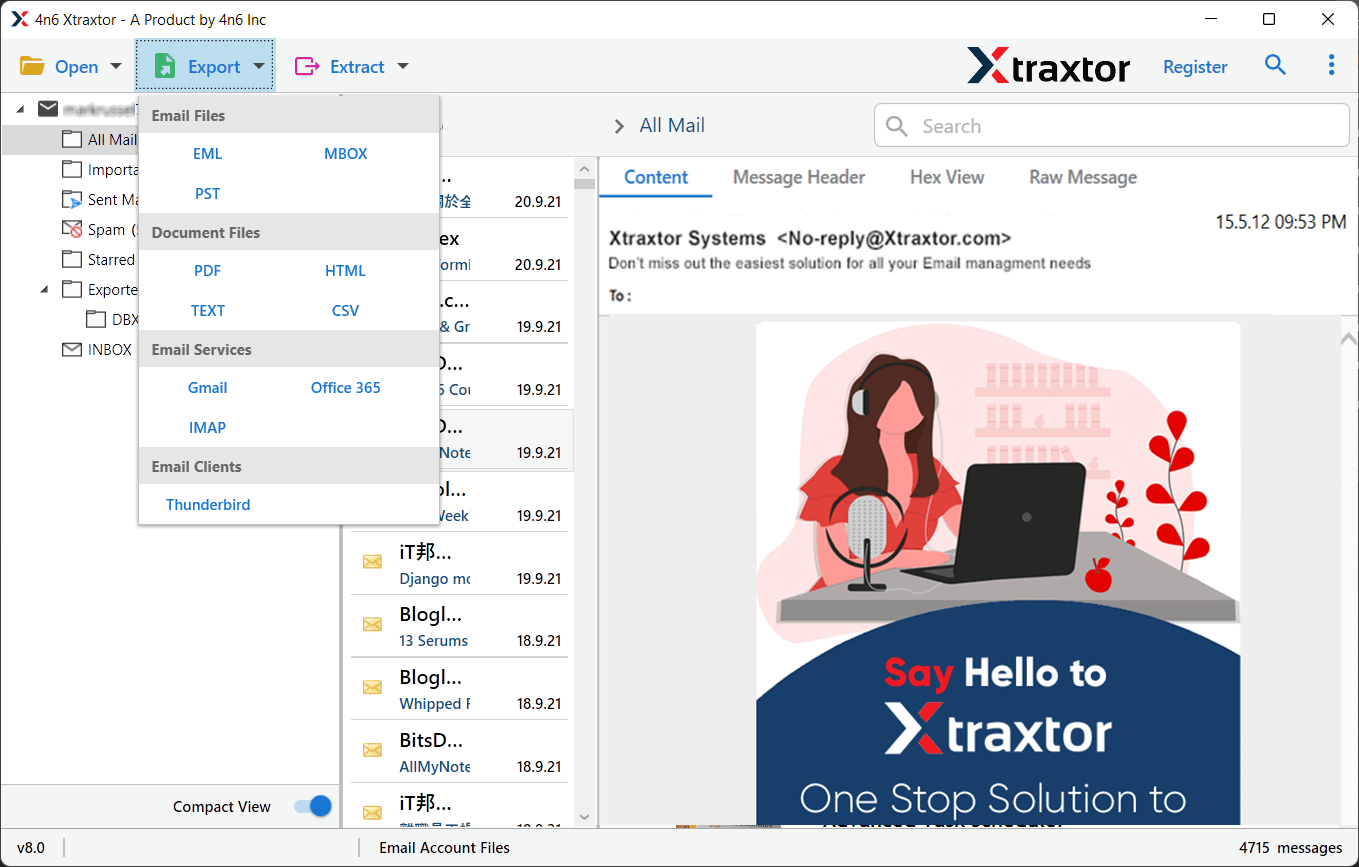 Step 5. Browse the saving location and click on the Save button.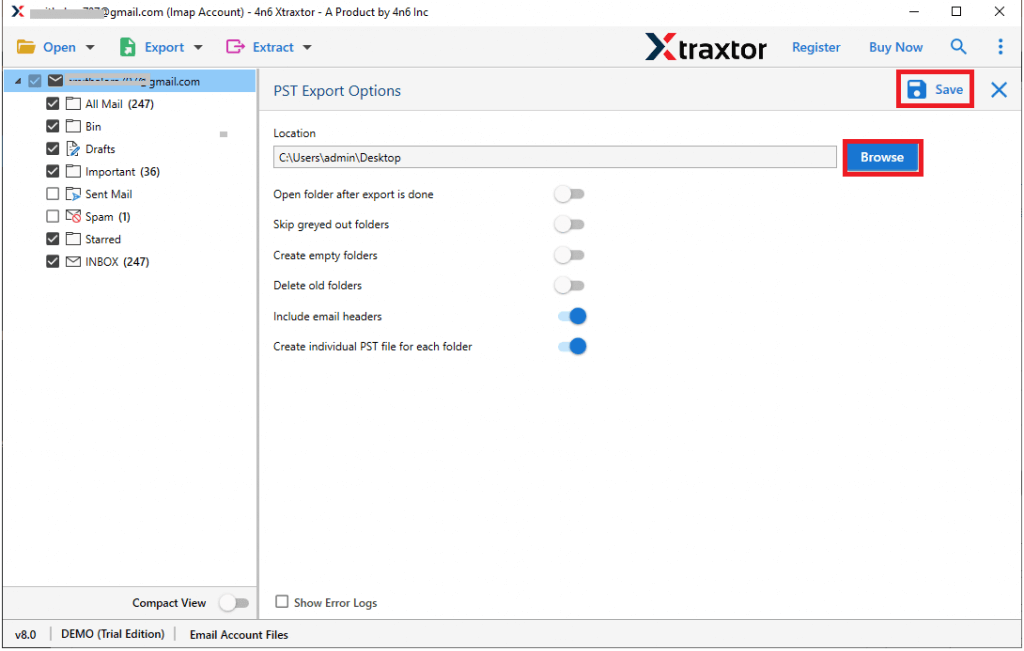 Here starts the process, after this tool export Gmail emails to PST format, you can find the transferred .pst file at the targeted location. 
Why Choose Xtraxtor Gmail Backup Tool
There are many eye-catchy features of this tool that make it easy to use and operate and perform the export operation with 100% efficiency and accuracy. Some of them are;
Selective Email Export: This tool is beneficial when users want to transfer some selective emails only. To avoid entire mailbox export, this tool helps the user to export some important Gmail emails to PST format. In this way, you can save your time and effort by transferring needed mailbox data only.
No File Size Limitation: With this utility, there is no limitation on email file size. One can use this tool and export an unlimited-size Outlook data file in a single attempt. Most importantly this tool makes sure to export large-size email data files without no data loss.
Multiple Saving option: This tool not only export Gmail emails to PST but also offers different saving options also. Using this tool you can transfer emails from Gmail account to PDF, MBOX, HTML, CSV, and other file formats with complete mailbox data. Most importantly you will get all these options in a single interface only.
Export Gmail emails to Another Webmail Account: Using this software, users can easily transfer their Gmail emails to another email account without facing any trouble. Users can directly export Gmail emails to Yahoo, Yandex, Zoho, and many more in a few simple clicks. 
100% Secure: This is one of all applications that export your Gmail mailbox data to .pst format in a secure way. This tool makes sure to maintain email data integrity while transferring it to PST and other file formats with ease.
Conclusion
Here in this blog, we are discussing the top two approaches to export Gmail emails to PST. We will learn the manual as an automated procedure to carry out this transfer process. Now the user can choose one that suits their needs. Try the method for yourself and decide which one works best for you. Hope we solved your problem and you can now transfer emails from Gmail to PST format without any problems.