Do you want to import EML to Gmail in batch? If so, your search ends here. In this blog, we will provide a quick and direct solution to migrate EML files to Gmail stepwise.
Gmail is one of the most sophisticated and widely used free email services. It offers several apps to professionally manage daily basic tasks. On the other hand, EML is referred to as a single email message that is supported by multiple email client applications. Before you switch to the solution, let us know why you need to upload EML files to Gmail.
Why do Users Need to Import EML to Gmail Account?
Gmail is a trustworthy and easy-to-use email service provider
Gmail is a cloud-based email service that can be accessed anytime and anywhere
Offers upgrade facilities like G Suite so that users can open their corporate Email id.
Gmail is a free of cost email service and easily runs on any operating system including Windows, Linux, Mac, Android, etc.
It can be easily used on devices such as computers, laptops, mobile phones, etc.
These are the advantages of Gmail that users want to use to import their email messages into a Google Account.
Easiest Way to Upload EML Files to Gmail
Unfortunately, Gmail does not have a built-in function to import EML email messages. However, you need to worry that you can accomplish this task by using the Xtraxtor EML Converter tool. This is the one-stop solution that allows you to upload EML files to Gmail account directly. With its simple interface, any novice user can use the software and import EML to Gmail mailbox without any hassle.
Along with that, this tool can also import EML to Google Workspace, Yahoo, Yandex and many other webmail accounts. There are various advanced filter options that help to transfer specific and selective emails from EML files. 

Steps to import EML files to Gmail account:
Step 1. Install and run Xtraxtor on your computer.
Step 2. Click on Open >> EML Files >> Choose Folders or Files.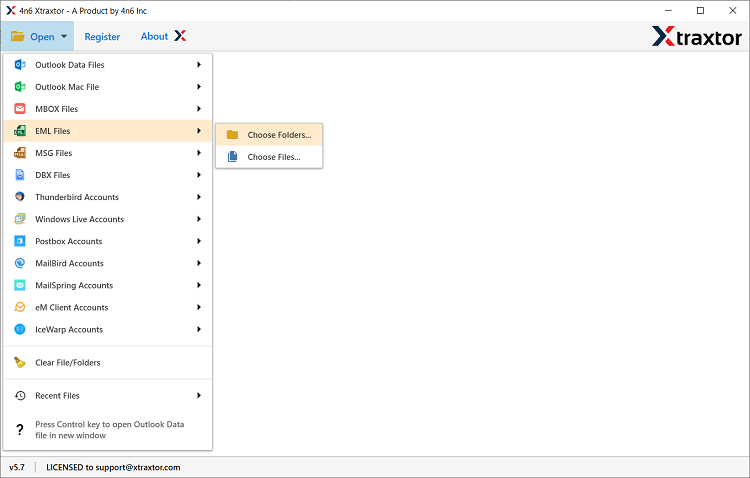 Step 3. Select a folder having .eml files.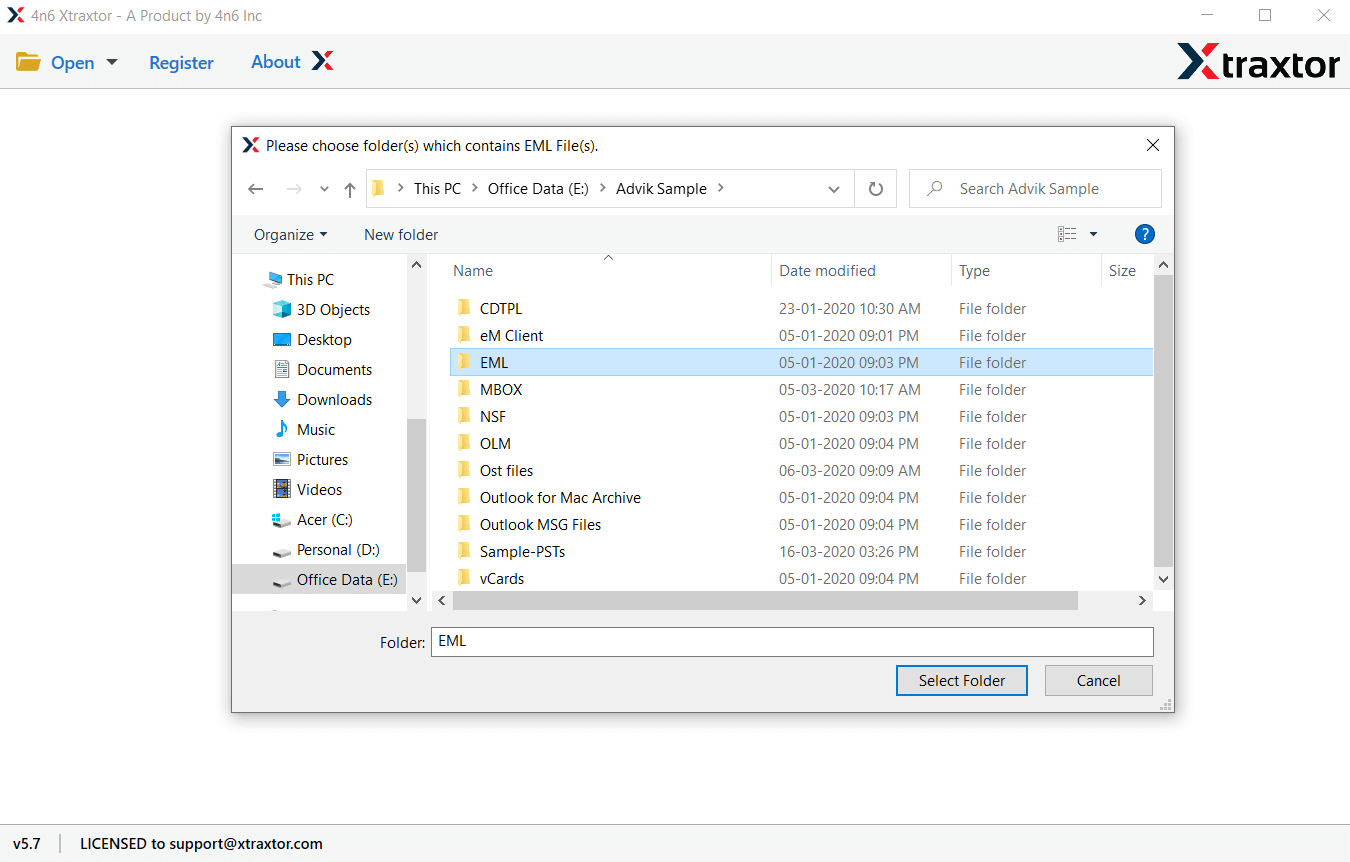 Step 4. Click Export and select Gmail from the saving option.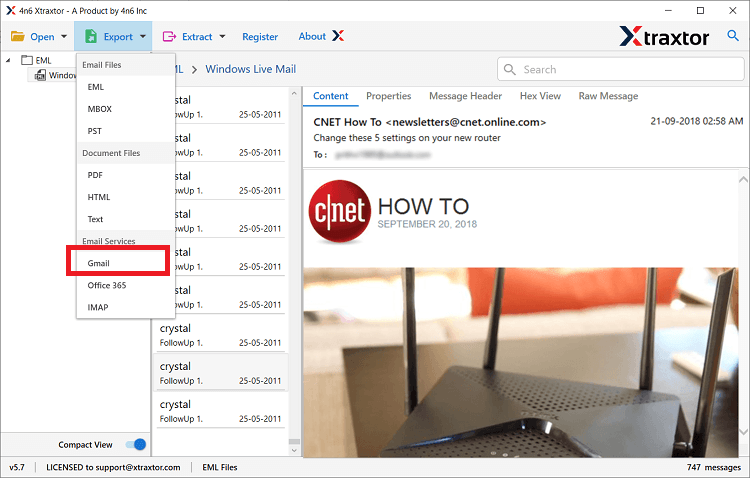 Step 5. Enter your Gmail account credentials and click the Save button.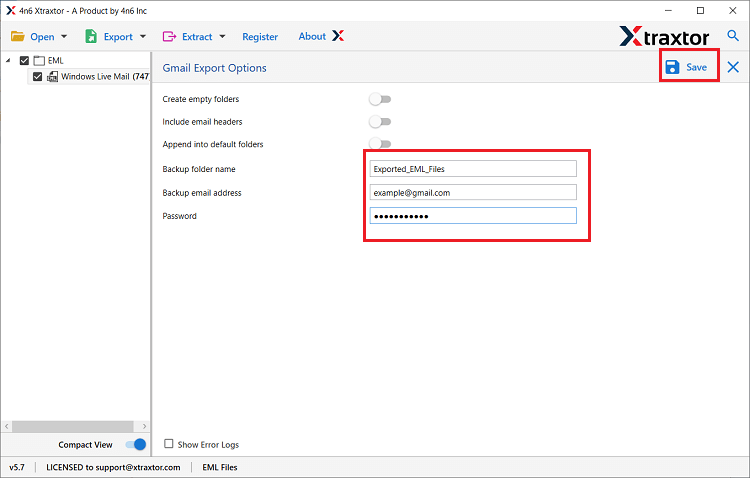 You're done! This is the simplest and most successful solution to import EML files to Gmail account directly.
Why Choose EML to Gmail Wizard?
This wizard has many useful features that make this task easier for the users. In the following section, we are going to discuss some highlighted features of utility in detail.
Easy to Use: The software has a simple and graphical user interface that is easy for any beginner to access. Regardless of whether you are technical or not, the tool does not require technical knowledge to perform this task.
Bulk Conversion: The utility grants permission to import multiple EML files directly to the Gmail account in a single time. In addition, the software is not subject to any restrictions. You can easily perform unlimited EML file migration without data loss.
Preserves Data Integrity:  The software maintains the data integrity of EML files during the import process. The metadata properties are retained even after the import EML to Gmail account process.
Different Saving Options: Using this software one can also convert EML to PST, MBOX, CSV, PDF and many other file formats. All these file-saving options will be present in a single interface. 
Selective Email Conversion: The tool previews EML files after loading them in the software panel. Here you can select the EML files which you want to import into a Gmail account and save your time.
Save Emails with Attachments: This utility supports to import EML files to Gmail account along with their attachments. You do not have to import the attachments from EML files separately, the tool imports attachments that are linked to email messages.
Windows Supportive: It is completely a Windows-based utility that can be easily installed on Windows 10, Windows 8.1, Windows 8 and other editions listed below.
Conclusion
Gmail is the most preferred email service provider with lots of great features. Most of the time, users need to upload EML files to Gmail account to achieve the advantages. Here in this blog, we explained the reliable solution to import EML to Gmail using the best EML Converter tool. This is an advanced utility that allows you to import EML files to Gmail account directly in just simple 4 steps.
Frequently Asked Questions:
Question 1: Can I bulk upload EML files to Gmail account?
Answer: Yes, the suggested tool gives freedom to upload multiple EML files to a Gmail account at the same time without losing a single piece of data.
Question 2: Unable to Sign into Gmail?
Answer: You have to enable Less Secure Apps as well as IMAP from Gmail security settings. Enable these settings to make migration operational.
Question 3: Can I import Thunderbird EML files to Gmail?
Answer: Yes, the software supports importing EML files created by Thunderbird and other supported email client applications.
Question 2: What about my attachments during the import process? Are attachments imported with my emails?
Answer: The utility is capable to import EML file to Gmail including all attachments. Regardless of the size of your attachments, the tool saves them with email messages.