Summary: Are you struggling and don't know how to import DBX to Hotmail account? When the user gets to the right spot, just smile. Here we will give you the easiest and most important patterns to get out of this situation. Read on to learn more.
Outlook Express was a mail application that came with Windows from 98 through XP. It stored email messages in DBX files. Every file restrained all of the messages within an individual folder, such as Inbox.dbx. Outlook Express is no longer the efficient product of the astronomic tech giant. But there are still many users of Outlook Express who require it for email communication. But with enhancements in technology, they looking for a solution to import DBX to Hotmail. To totally resolve the issue of Outlook Express, this blog explains an instant solution to export DBX to Hotmail by using of Xtraxtor DBX to Hotmail mail migration Software. But please keep in mind that the manual solution is a lengthy one. Despite this, it works fine and is perfectly to transfer DBX file to Hotmail.
Import DBX File to Hotmail Using Xtraxtor
If you are looking for a solution that immediately transfer bulk DBX file to Hotmail account then it is extremely suggested to use one of the best Email Extractor Tool in the market. This is brilliant tool that offers you to export DBX file to Hotmail account without any file size limitation, data loss, or security problems.

The tool offers options to add multiple DBX files individually or to add a folder containing multiple DBX files at once as per the user need. After the completion of the migration procedure, the tool will generate an individual DBX file for every DBX file like inbox.pst for Inbox.dbx, drafts.pst for drafts.dbx and so on.
Additionally, the software provides a simple user interface that enables users to import DBX to Hotmail with attachments easily. If you are a complete novice user and have no prior technical expertise, even then you can use this software with great ease.
Tool offers an advanced search option to find your data files by entering a name,  from/to, subject, select date, to,  time from, file name, File size unit,  file size, etc. Extract Phone numbers, Email addresses, and Attachments in collection instantly. You can view your all data files in these formats like content, the message header, and raw message in the application panel.
Steps to Import DBX to Hotmail Account are;
Step 1. Download and launch the Xtraxtor DBX Converter on your system.
Step 2. Now mouse click on "Open >> Email Data File >> DBX File >> Select Files or Folders.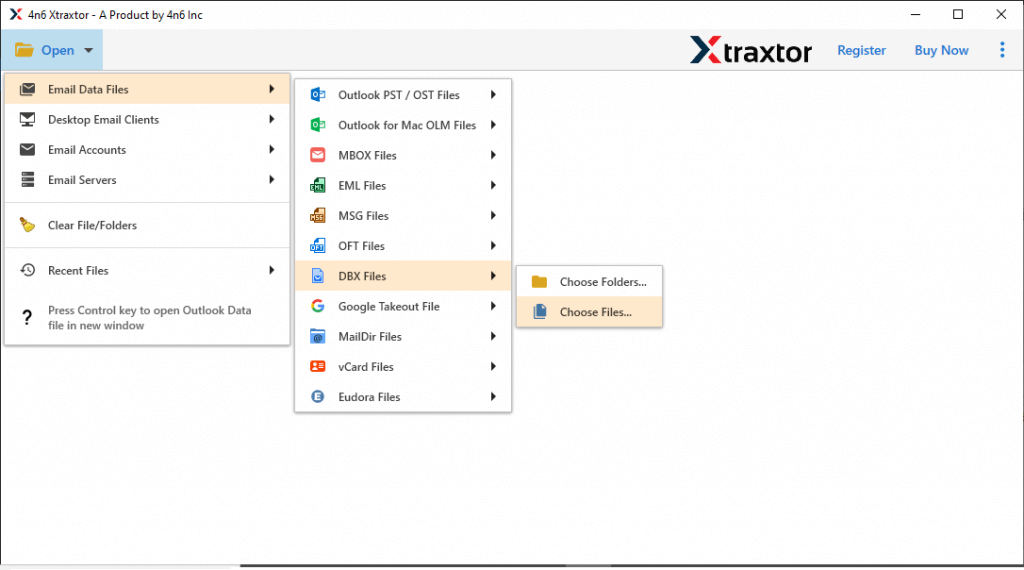 Step 3. Here you can view your DBX file data before importing them into your Hotmail account.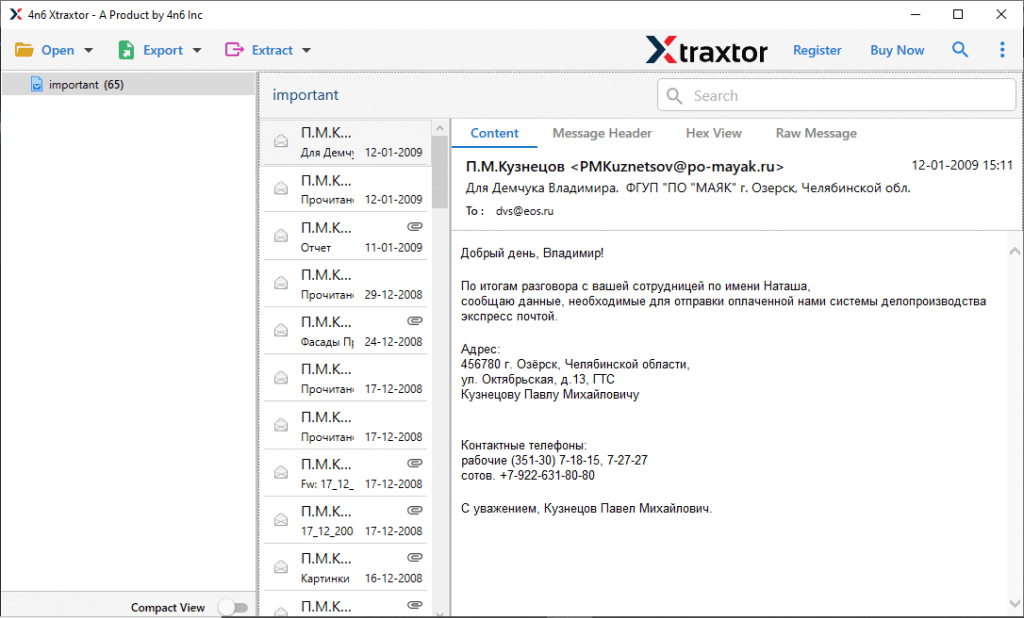 Step 4. Click Export and choose IMAP as a saving option.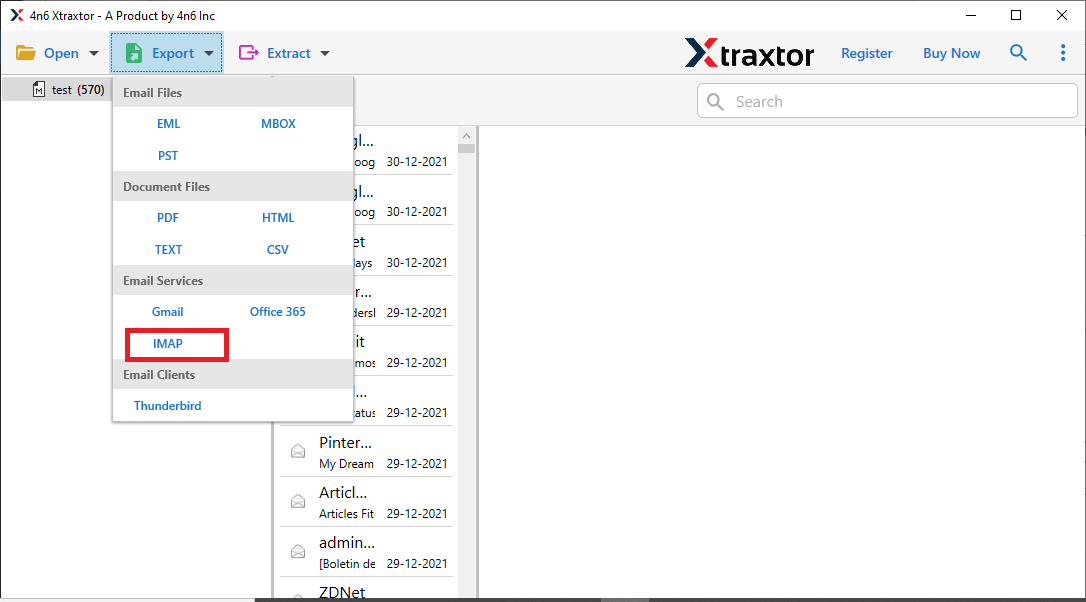 Step 5. Enter Hotmail login credentials and click the Save button.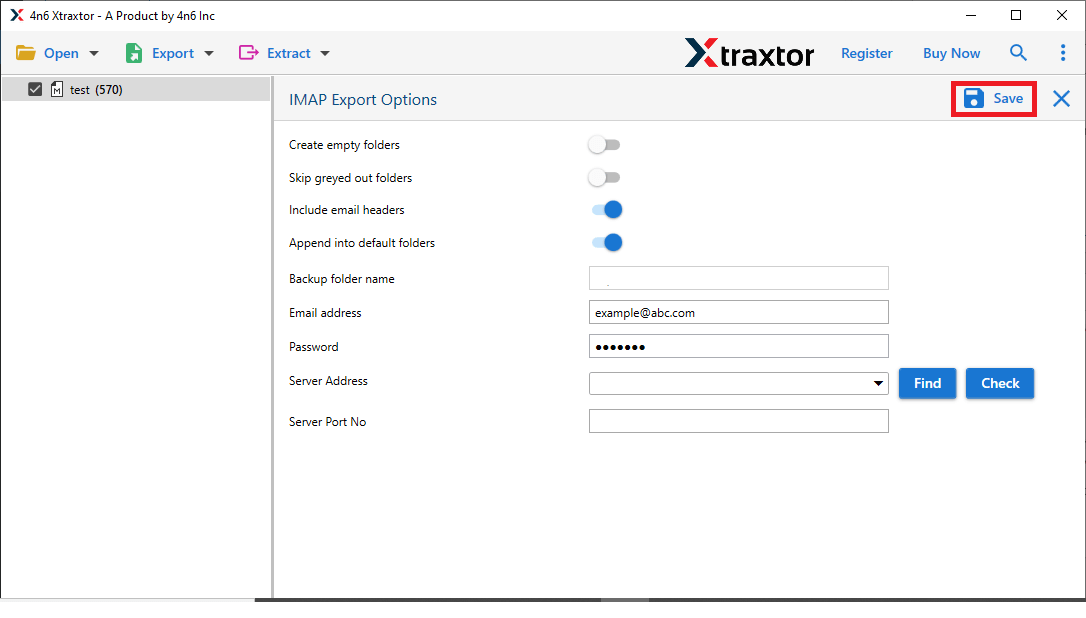 Advanced Features of Xtraxtor DBX to Hotmail Wizard
There are several causes for choice this solution to import DBX to Hotmail account. Let us know the major causes –
Easy and Fast Utility – The utility is precise and easy to use with its user-friendly interface. Furthermore, it executes fast export of DBX to Hotmail with attachments with an easy mouse click.
Offer Bulk Import facility – Users can easily load a folder of DBX instantly into Hotmail account. This will save users' attempts and precious time.
Keep data integrity – No tension of any element such as email attributes, email formatting, and folder structure as the tool totally keeps data integrity.
Direct and Unlimited Import – Direct upload DBX to Hotmail is done by the utility. Furthermore, no size restrictions are there so you can export the data in unlimited quantities.
Standalone Utility – Users necessity to download this tool and follow the instructions. Apart from it, no outside tool installation is required for this migration.
Summing UP
Above, I have described the outcomes behind to export DBX to Hotmail. The automated solution has been recommended in detail. So users can go for the automated solution to save your time and energy. Hope this article helps to resolve all your query and help you to import DBX to Hotmail mailbox.