In this write-up, we'll discuss "how to import DBX file to Zoho Mail?" There are several situations when the users need to export DBX file to Zoho Mail. Outlook Express is an email application discontinued by Microsoft Corporation. Microsoft declared the discontinuation of Outlook Express after starting Windows Vista and Windows Mail. Hence, multiple users search the way to transfer DBX file to Zoho mail. If you are looking for a solution to the same, this blog is for you. Here, we describe the all procedure for importing DBX file to Zoho mail account using DBX to Zoho mail migration software. This tool gives a direct method to import DBX file to Zoho mail account.
Overview of Outlook Express DBX File
Outlook Express is a desktop-based email application, which provides all the basic services such as emails, contacts, etc. To store the entire mailbox data Outlook Express usage DBX file format. This is a kind of file format that stores several emails within an individual folder. At first, it was included in MS Office but after Windows Vista is replaced by Microsoft outlook.
Default Location of DBX File
DBX file extension is a collection of each email, which includes several folders alternatively of a file. In order, Outlook Express usage a common file format to sphere emails of every folder. Moreover, the user account folder is created in an email client application, which is placed at the default folder destination in .dbx file format. Every folder will be indicated as the inbox.dbx, deleted_items.dbx, outbox.dbx, sent_items.dbx, etc.
Firstly, the file structure of the Outlook Express .dbx file represents the hexadecimal arrangement. The primary header line is includes as a file signature, which can be shown in the starting of hexadecimal value: CLSID, i.e., content class ID. This is an identifier, which assists to distinguish the file type of DBX. It is a string kind that can be utilized to specify the corresponding files on an OS.
How to Export EML File to Zoho Mail With Automated Solution
There is no manual solution available to import DBX file to Zoho mail. Hence, it is recommended to opt for a professional solution i.e. Xtraxtor DBX Converter tool on your Windows computer. It is a surprising utility that is designe especially to export DBX files into different file formats PST, EML, MBOX, MSG, etc. One can simply open and view multiple .dbx files along with attachments.
This tool can scan one or more .dbx files at a time and after that, load entire emails automatically. Even a novice can use it because of its simple-to-use interface. This application preserves the metadata properties of emails like the subject, from, to, cc, bcc, etc. Furthermore, the folder structure of EML email folders is maintained as the original.
Steps to Export DBX File to Zoho Mail Account
Step 1: Download and launch the Xtraxtor on Windows OS.
Step 2: After that click on the Open button upper right corner of the application panel then selects the DBX option.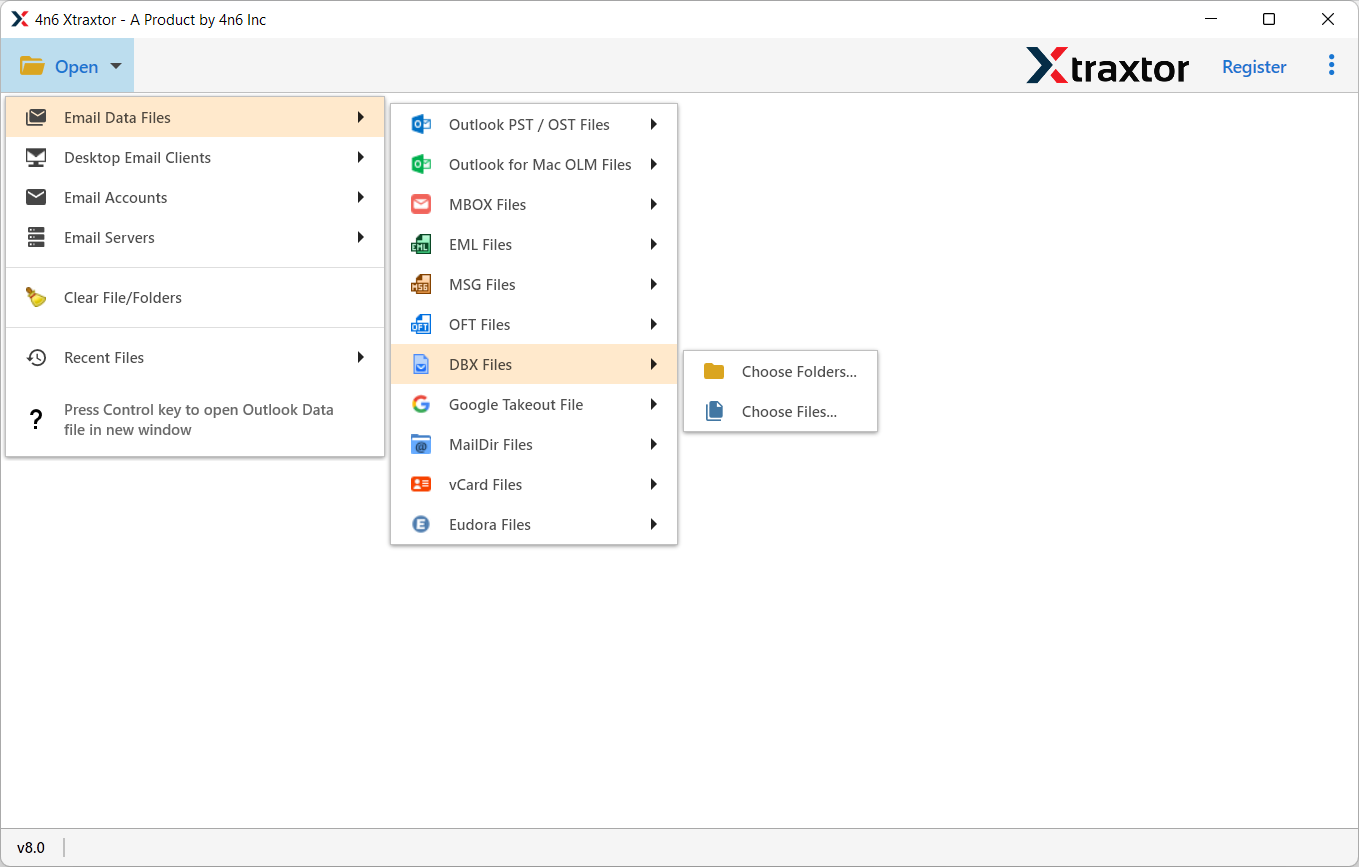 Step 3: After that, click on Export and choose IMAP from the given options.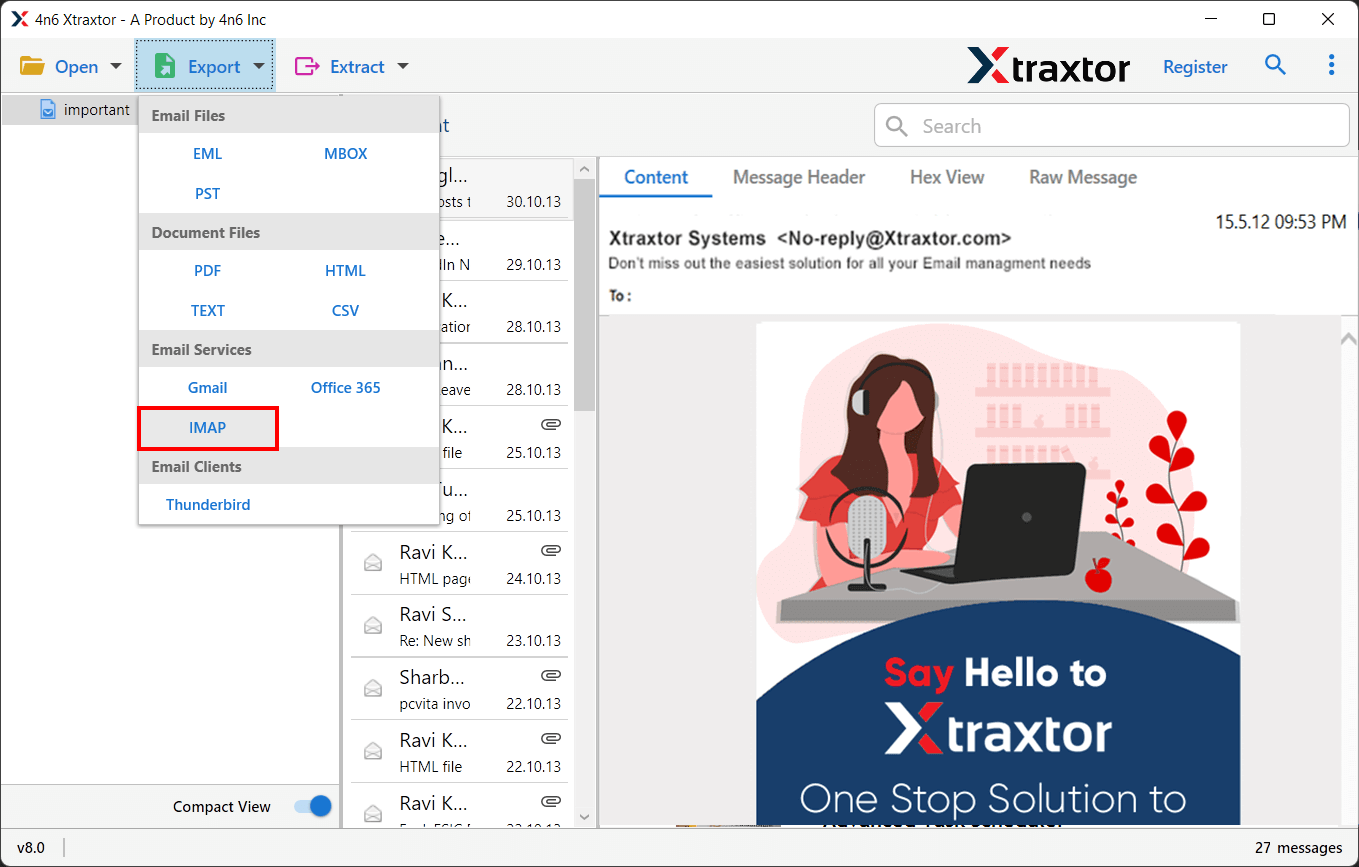 Step 4: Finally, enter your Zoho Mail login details and hit on the Save button and start the importing process.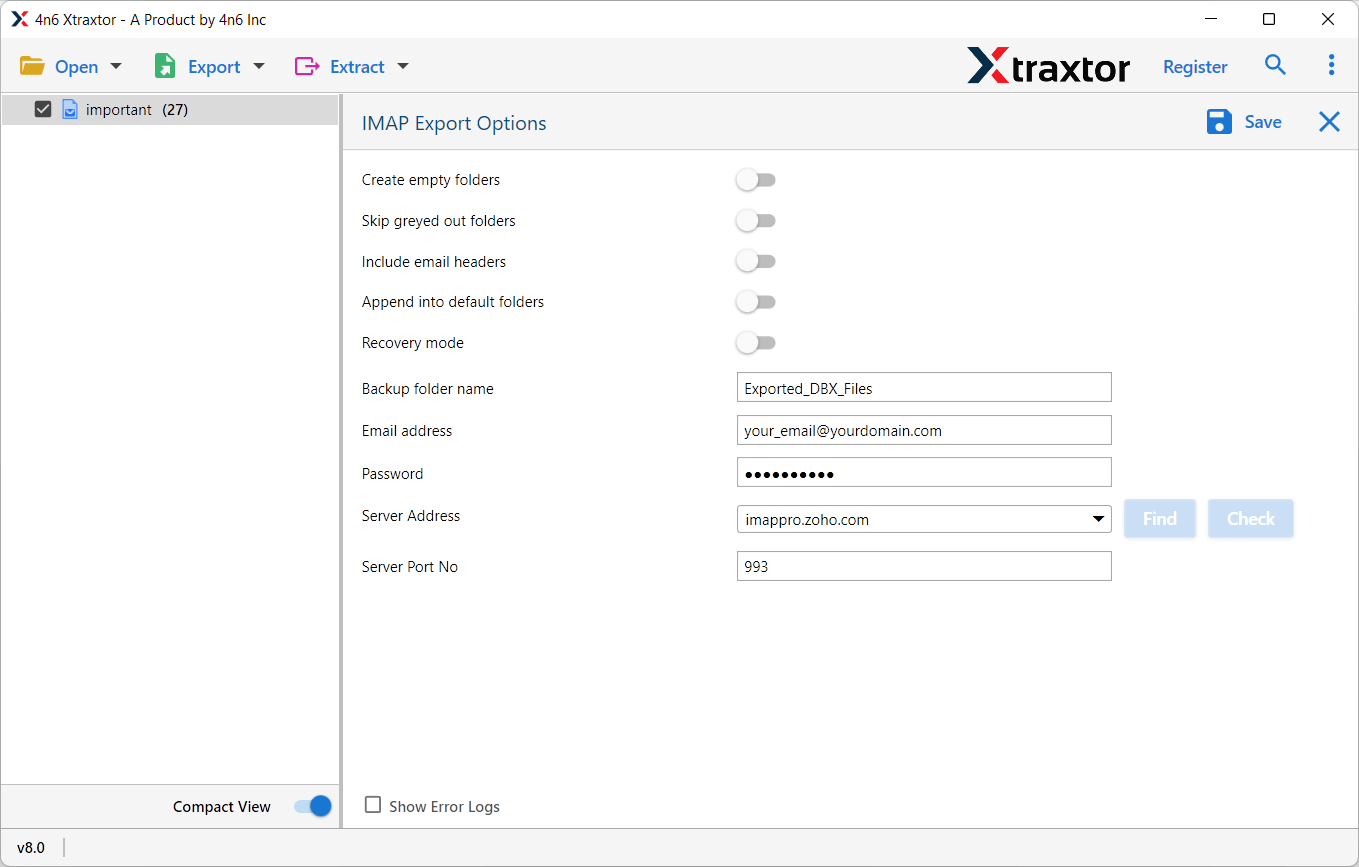 Effective Features of Xtraxtor DBX to Zoho Mail Migrator Application
The software has various outstanding features that will import DBX file to Zoho Mail with efficiency and accuracy, some of them mention here – 
Export DBX Files in Bulk: The tool assists to import multiple .dbx files into other file formats in a batch. It provides two options when choosing the DBX file for the migration:
Add Folder: You can straightly choose a folder, which includes all DBX files within it
Add File(s): You can choose every DBX file one by one for performing the batch conversion
Preview Emails in Multiple Styles:  This software permits a user to view each message of the selected .dbx file in various modes like content, the message header, and raw message, etc.
Keep the Folder Hierarchy: Instead of transferring all data of the chosen DBX file, you are having the facility to perform the choosing migration with this utility. The tool maintains the formatting intact after data migration and also keeps the folder structure as well.
Final Verdict
In the above write-up, we have discussed one precise technique to import DBX file to Zoho mail account. Users can try this opt automatic technique for fast and accurate outcomes. This is a simple and secure solution. We can use the demo version of the software and experience the import process before moving to the licenced version.