If you are still finding a solution to import DBX file to Gmail account? Then you are landed on the right blog. In this write-up we will provide the direct solution to upload all data from DBX to Gmail with step by step.
The DBX file is a mailbox folder created by Outlook Express. Today, Outlook Express is a discontinued and outdated email client application. As a result, many users and organizations want to switch to other email services such as Gmail. Since Gmail is the most trusted and cloud-based email service that can be easily accessed anywhere, anytime many users prefer to transfer DBX emails to Google Mail account. Before proceeding with the method, you should first take a look at the benefits of Gmail that you will get after transferring DBX Emails to Gmail.
Benefits of DBX to Gmail Import
Gmail is a well-known email service for everyone, and all users have at least one Gmail account. This is the free cloud-based email service that offers its users multiple functions. Here is the list of benefits you get with Gmail.
Never lose important emails with Gmail
Manage and access your emails anywhere
Sort your emails with different tags and labels
Create your company ID with G Suite
Get multiple Google Apps without paying anything
Steps to Import DBX to Gmail Manually are;
Run Outlook Express in your machine.
Set up your Gmail account through IMAP.
Now, select the folder that you want to upload.
Press Ctrl+A to select and copy all emails.
Drag and drop those messages to Gmail label.
Direct Solution to Import DBX Emails to Gmail Account
As mentioned in the section above, we offer you the best and most effective solution to import DBX to Gmail. To achieve this, Xtraxtor DBX Converter will help you to transfer DBX file to Google Gmail account. This software is specifically designed for all users who are looking for a method to directly upload DBX file to Gmail account.
This wizard is easy to use and allows all non-technical users to get their work done without getting stuck anywhere. It successfully supports all versions of the Windows operating system and does not require the installation of any other application to start the migration process. First, download the DBX Converter tool and then follow the steps given.

Steps to Import DBX File to Gmail Account are as follows
Step 1. Run Xtraxtor on your PC and click on Open.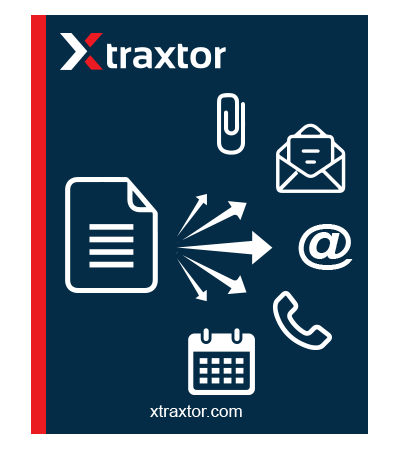 Step 2. Select the DBX files option and choose DBX Files or Folders.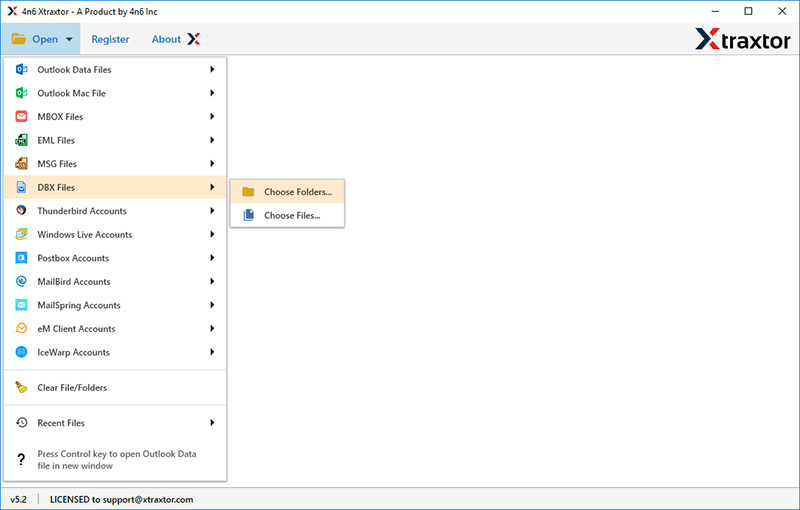 Step 3. Click Export and select Gmail as saving format.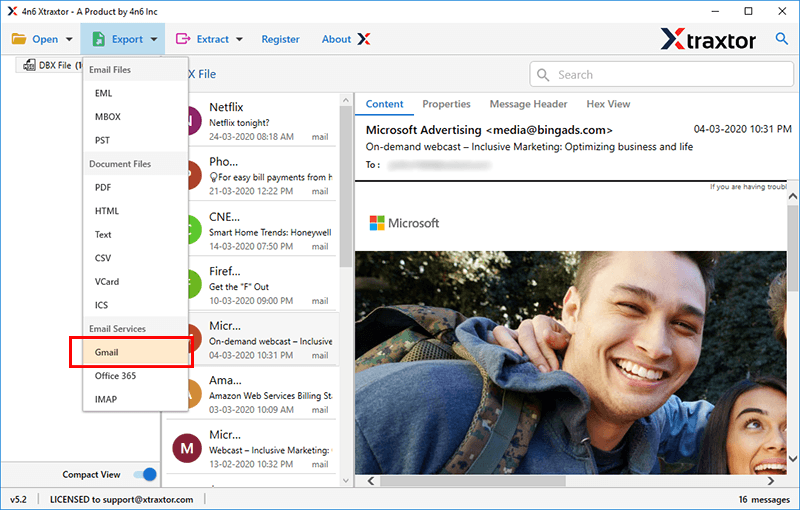 Step 4. Enter the credentials of your Gmail account.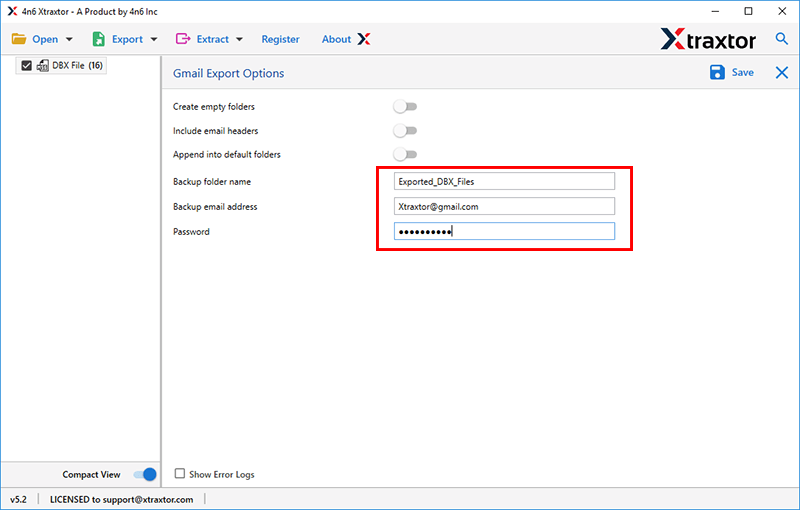 Step 5. Click on the Save button to complete uploading the DBX file into Gmail.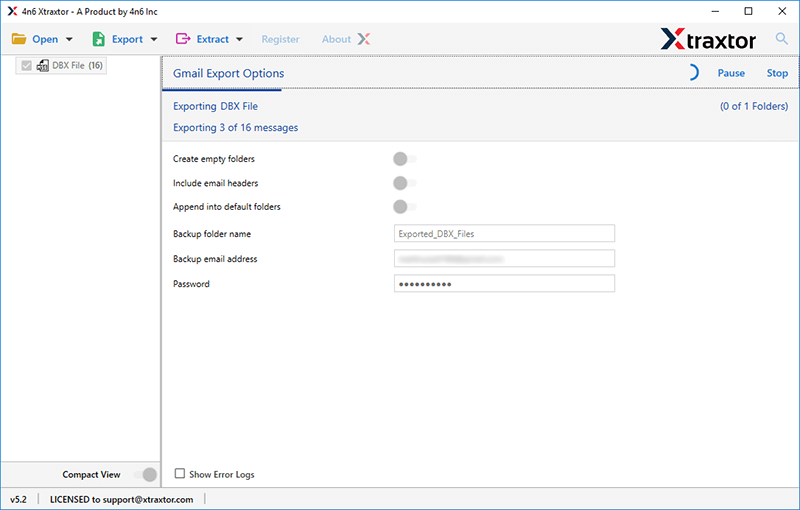 Once the task is complete, log in to your Gmail account and review the imported DBX data files.
Why Choose Xtraxtor to Import DBX File(s) to Gmail?
This is the right question because you know everything about the DBX to Gmail migration tool before you migrate DBX mailbox data to a Gmail account. The software offers several options. Here is a list of some highlighted features that you can use to perform this task easily when needed: –
Simplified User Interface: The application provides users a simple and graphical interface. This way, every beginner can understand the full functionality of the tool.
Two Modes for Data Selection: The software offers two options for loading DBX file into the panel i.e., Choose Files or Choose Folders. You can opt Folder option to bulk import DBX file to Google Gmail account.
Direct Import Process: This utility is capable enough to upload DBX file directly to the Gmail account via login details only.
Upload Emails with Attachments: With this software, you are able to import DBX files to Gmail account including all attachment file like DOC file, PDF, Images, etc.
Maintains Data Integrity: You don't have to worry about the original formatting of the data while using this tool. All DBX email properties are preserved during the import process. In addition, the folder structure of the DBX mailbox is retained as the original.
Filter Options: With this automated tool there are various filter options to import selective emails from the DBX file. One can apply filters such as – to, from, cc, name, date, time, subject, etc. 
Preview Emails: Before uploading the DBX emails to Gmail, you can preview emails by clicking on them one by one. Moreover, here you can select certain files if you want to perform a selective email import process.
Frequently Asked Requests – Import DBX to Gmail
Can I import DBX files to Gmail in batch?
Yes, the software enables you to bulk upload DBX file to Gmail account in one go.
Does the application work with Windows 10 machine?
Yes, the wizard is compatible with all version of the Windows Operating System, including Windows 10.
Does the software save personal information while the DBX mailbox to Gmail import process?
Absolutely not, the software never stores users' personal information. It is 100%, reliable and proven application for migrating DBX emails to Gmail.
The Final Verge
Uploading DBX to Gmail account is not a difficult task once you know how to do it safely. In this blog, we explained the direct and trusted solution to import DBX file to Gmail account using the DBX File Converter wizard. All you have to do is enter the login details of your Gmail account into which you want to import DBX mailbox data, and the software will perform the import DBX to Gmail process successfully.