Outlook
How to Extract Contacts From PST Files?
Summary: If you have PST files and you want to export contacts from PST files. Then read this post very carefully to complete your task. Because in this article we are going to discuss the best techniques to extract contacts from PST files.
PST stands for personal storage table that comprises personal information of Outlook. It contains email, contacts, calendar, tasks and other data items. However, there are many situations when users need to extract contacts from PST files. Eg. if they want to share contacts with mobile phones, Google Contacts, free up the Outlook account space by downloading all the contacts from PST files etc. Therefore, we will provide the ways to export contacts from PST files.
So, Let's start. First, we discuss the manual solution and then a professional approach to solve the request. 
Method 1: Manually Extract Contacts from PST Files
In this technique you need to install MS Outlook on your system. Follow the given steps to save contacts from PST files using Outlook.
Step 1. Firstly, Launch MS Outlook on your local system and click on File tab

Step 2. Now, Go to Open & Export and click on Import/Export option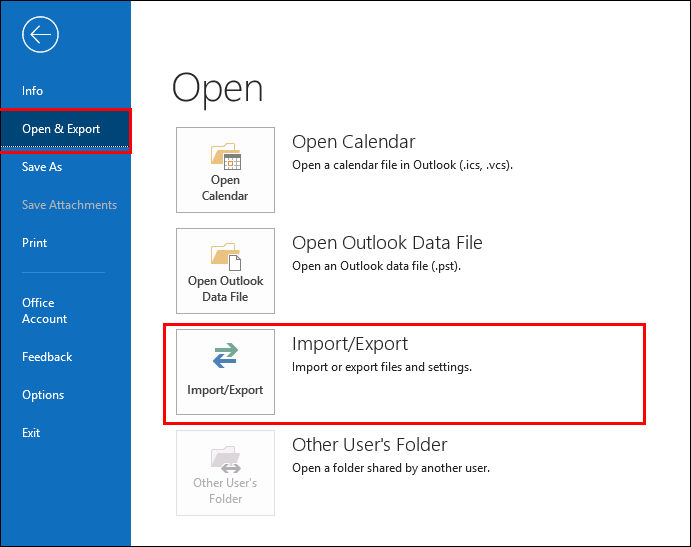 Step 3. Choose Export to a File and click on Next tab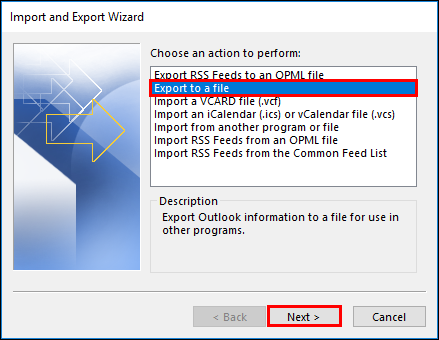 Step 4. After that, Select Comma Separated Value(CSV) and press Next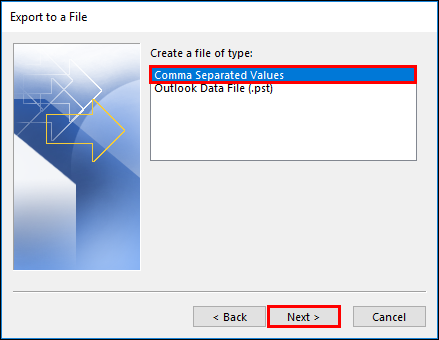 Step 5. Select Contacts folder from Select folder to export section and click on Next
Step 6. Click on Browse to set the Destination location and give the name to file and then press Next tab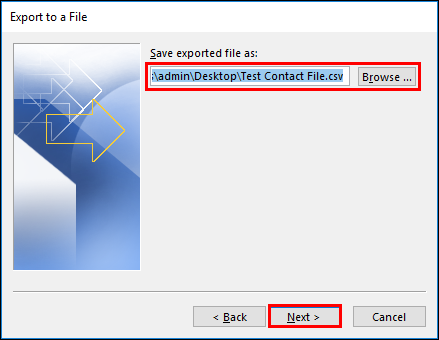 Step 7. Finally, click on Finish button to start the extraction process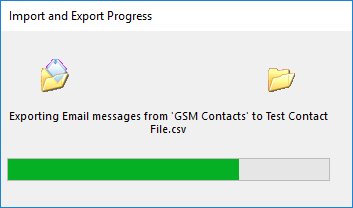 MS Outlook will not display after finishing the process. So, when the process is finished, the progress wizard will disappear from the screen. Go to the destination location and check if contacts are successfully extracted or not.
Method 2: Expert Solution to Extract Contacts from PST Files
If you do not have MS Outlook installed on your system then exporting contacts from PST files with the manual method is tough. In that case, you can go for a professional solution to complete this task without any hassle. However,  Xtraxtor PST Email Address Extractor is a perfect way to extract contacts from PST files without Outlook. The tool is able to download multiple contacts at once without losing any data. It provides a preview option to view the data before the extraction process. It also provides advanced filter options to extract contacts from required PST files.
Apart from this, it is a stand alone utility that means you do not require any external applications to perform the process. Moreover, the simplified user interface helps beginners to extract contacts from PST files without any complications.  You can download the free demo version of this tool to check its work efficiency. Hence, the tool easily fetch all contacts from PST files.

Steps to Extract Contacts from PST Files Using Professional Tool
Step 1. Firstly, Download and Run Xtraxtor PST Email Address Extractor on your system
Step 2. Now, Click on Open >> Email Data Files >> Outlook PST/OST Files >> Choose Files from Folders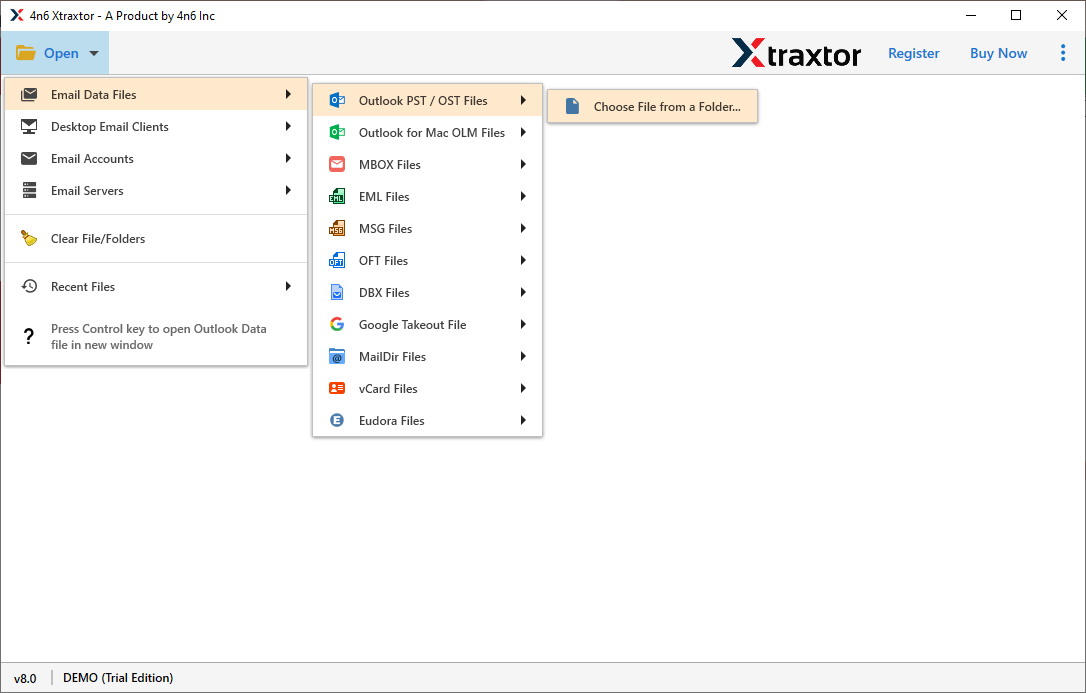 Step 3. After that, Click on Extract and select Email Addresses option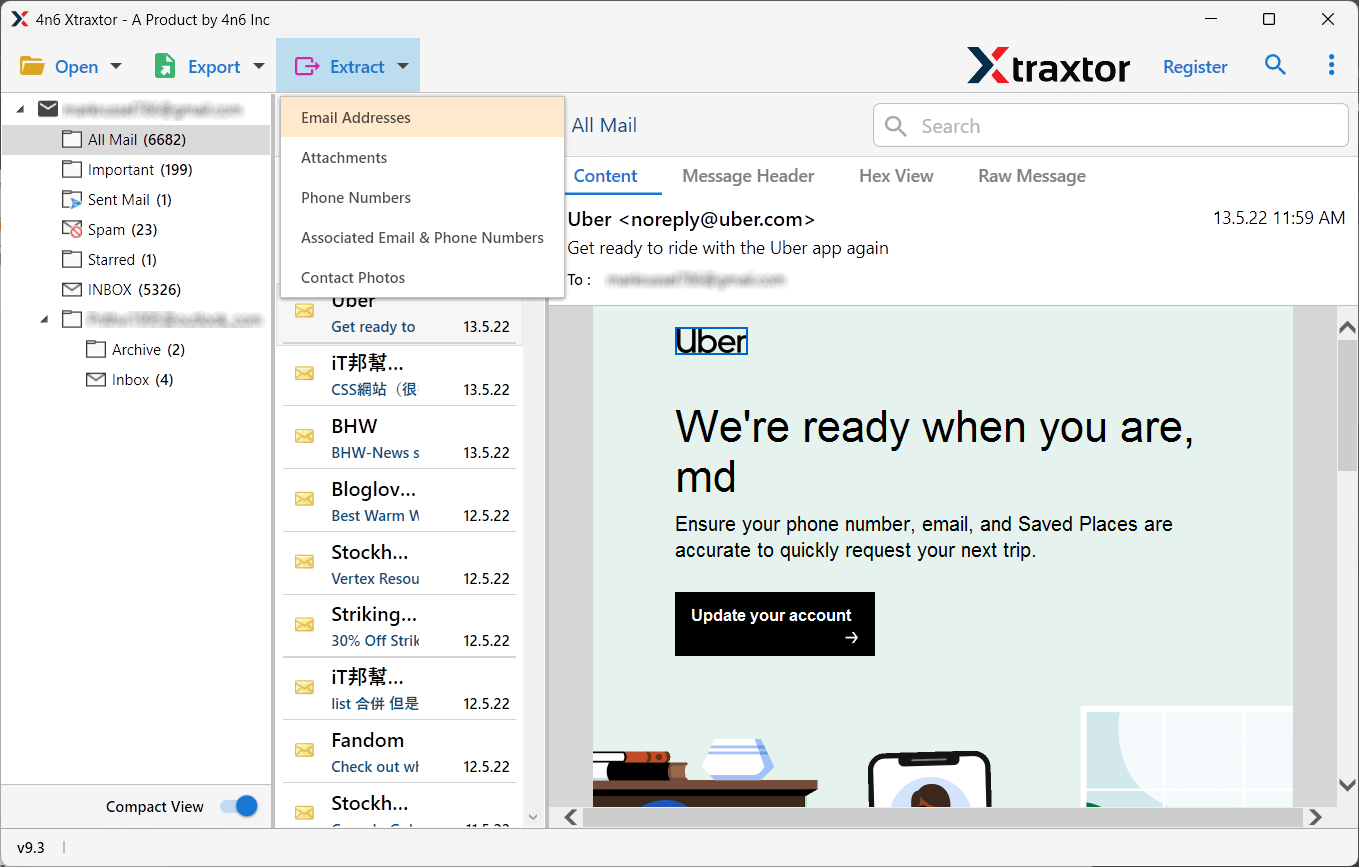 Step 4. Select the Fields to extract contacts and click on Extract button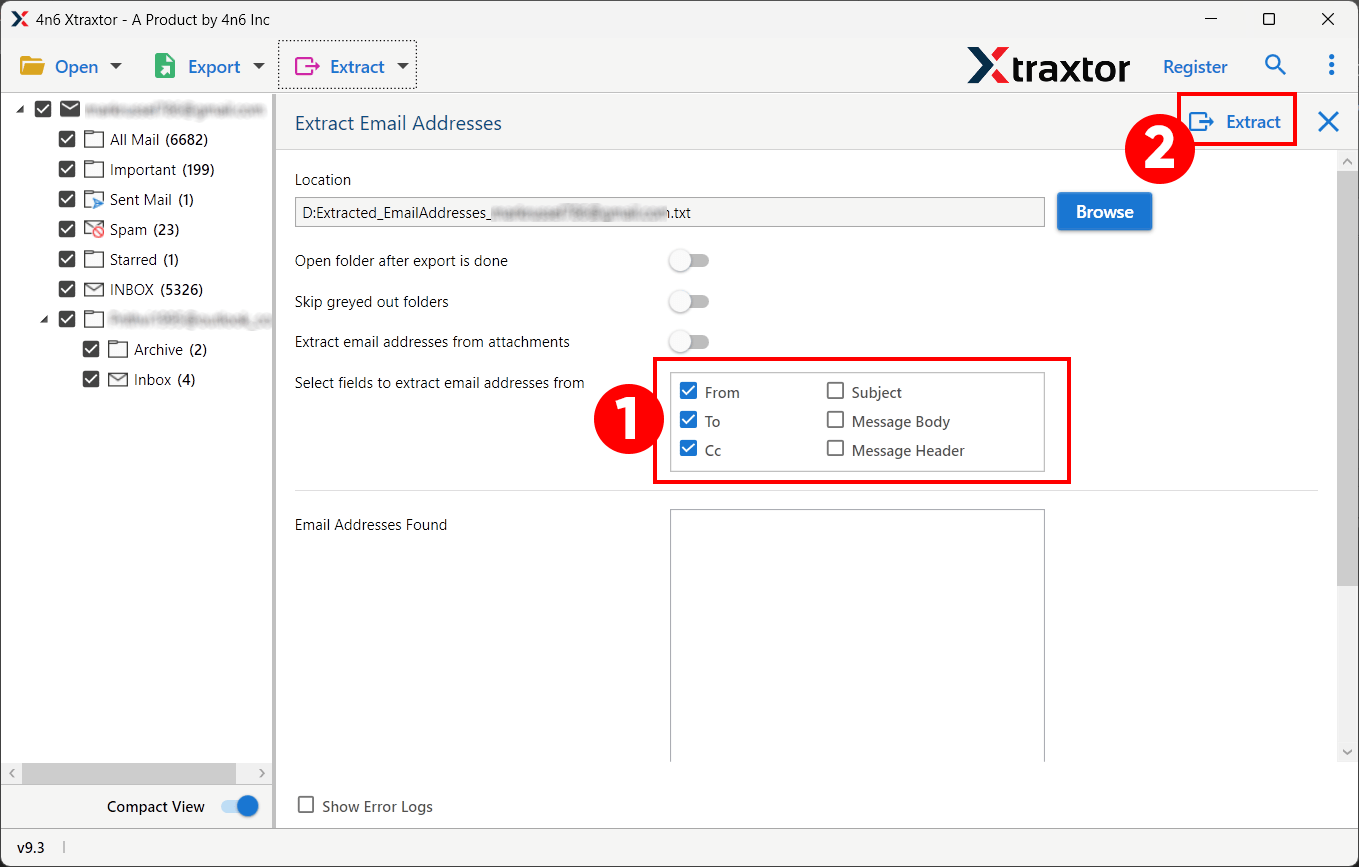 Step 5. At last, click on Browse to set Destination location and press Save button to save the resultant files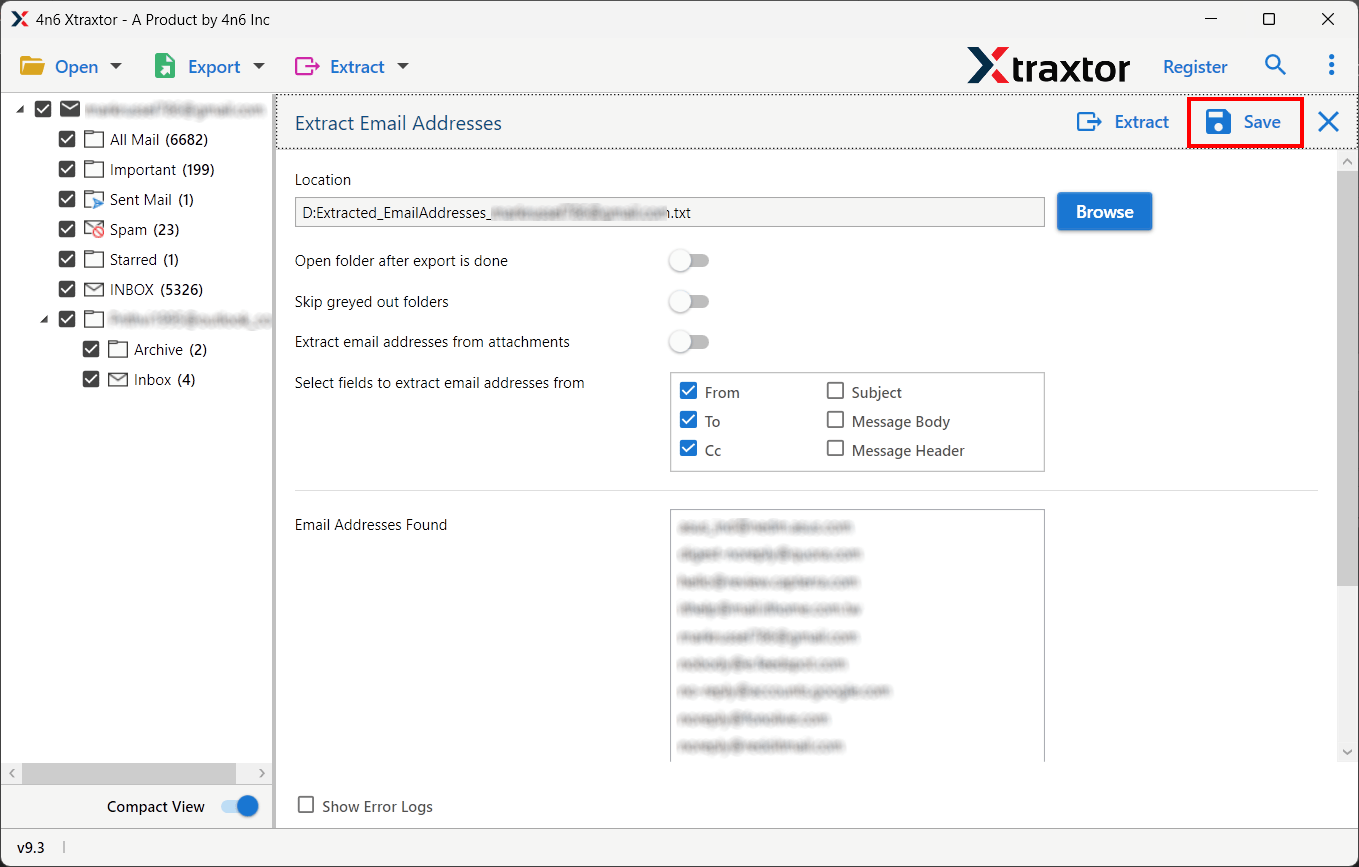 The process is complete. Now, Go to the destination location and check the extracted contacts.
Why Use PST Email Address Extractor?
The software has many benefits that help you to extract contacts from PST files without any difficulty which of them are-
Bulk Extraction- Using this tool you can extract contacts in bulk without losing any single bit of data. So, it saves your time and effort to save multiple phone numbers. 
Various Filter Options- The software provides multiple filter options such as to, from, date, time, subject etc. If you do not want to fetch all contacts from all PST files then filters help you. You can download any specific contact using filters.
Extract Attachments from File Formats- This utility can extract attachments from PST, OST, EML, MBOX, MSG etc. If you want to save attachments from these files then you do not need to purchase other products to complete this task.
Advanced Preview Mode- PST Phone Email Address Extractor has an innovative preview option that is very helpful for you. When PST files are added in the Software window, the tool automatically loads all data from PST files to software panel. Hence, you can view these data and select the required data for the extraction process.
Preserves Data Integrity- The software maintains 100% data integrity during the process and gives accurate results after the extraction process. It does not modify any data and maintains metadata properties and folder hierarchy of PST files.
No Restrictions- There is no size or number of files limitations. The software is able to extract contacts from large or unlimited numbers of files with accuracy. 
Extract from Email Clients- The software provides an option to save contacts from email clients. Using this tool, you can extract contacts from Outlook, Thunderbird, Windows Live Mail and other desktop based email clients.
User-Friendly Interface- The interface of this utility is very simple and easy to use. Both technical or non-technical users can easily extract contacts from PST files without facing any difficulty.
Windows Supportive- In this utility, you do not determine on which version of Windows you work. It supports all latest and old versions of Windows operating Systems. It works with all 32 bit or 64 bit Win OS.

Final Words
In this article we have discussed the manual and automated approach to extract contacts from PST files. You can select anyone as per your needs. But, if you want to export contacts without installing Outlook then you can directly extract contacts using the above recommended tool. However, the software is completely secure to download and it does not conflict with other programs that are installed on your system.